By Alan Silverleib
CNN Senior Political Researcher

WASHINGTON (CNN) -- Polls in five key battleground states in the race for the White House released Tuesday suggest that Sen. Barack Obama is making major gains.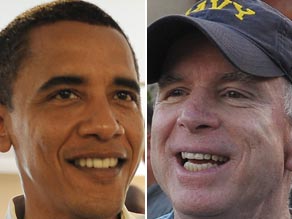 Democrat Barack Obama, left, is gaining ground on Sen. John McCain in some Republican strongholds.
The CNN/Time magazine/Opinion Research Corp. polls of likely voters in Indiana, New Hampshire, North Carolina, Ohio and Wisconsin reflect a significant nationwide shift toward the Democratic presidential nominee.
Obama has made significant strides in New Hampshire, the state credited with reviving Sen. John McCain's Republican primary campaign in both 2000 and 2008.
Fifty-three percent of New Hampshire's likely voters are backing Obama, while 45 percent are supporting McCain. Obama held a lead of 5 percentage points in the last CNN New Hampshire poll, taken in early September.

Watch what the poll numbers mean »
Four years ago, Sen. John Kerry narrowly carried New Hampshire -- a one-time GOP stronghold. George W. Bush squeezed out a slender win by 1 percentage point in 2000. iReport.com: Are you in a battleground state? Share your story
In Indiana, 51 percent of likely voters say McCain is their choice for president, with 46 percent backing Obama, a Democratic senator from neighboring Illinois. Indiana went for Bush by 21 percentage points four years ago; Democrats have not carried Indiana since 1964. See the latest polling
Presidential Debate
Nashville is the battleground as the candidates face off in their second debate. Don't miss a minute of the action!
Tonight, 9 p.m. ET
In North Carolina, the two major party nominees are locked in a dead heat, with McCain and Obama each claiming the support of 49 percent of likely voters.
"Obama's strongest region is in the Raleigh/Durham area," said Keating Holland, CNN's polling director. "McCain does best in Charlotte and the surrounding counties."
The last Democrat to carry North Carolina was Jimmy Carter, a Southerner, in 1976. The state's 15 electoral votes are considered critical for any successful Republican presidential campaign.
McCain trails Obama in Ohio; 50 percent of likely voters favor Obama, while 47 percent support the senator from Arizona. No Republican has won the White House without carrying the state.
"McCain has a 6-point lead in the Cincinnati area," Holland said. "But a GOP candidate normally needs to do better than that in southwestern Ohio in order to win the state. And overall, Obama actually has a 2-point edge among suburban communities across the state."
In Wisconsin, which hasn't voted Republican since 1984, Obama is holding a 51 percent to 46 percent lead among likely voters.
"Obama continues to maintain a 'home field advantage' in the southern Wisconsin counties that border Illinois," Holland said. "He has nearly a 30-point lead in the city of Milwaukee, although he loses the Milwaukee suburbs by nearly as large a margin."
Don't Miss
The new polls are behind several shifts in the CNN Electoral College map.
CNN is shifting North Carolina from leaning toward McCain to a tossup. CNN is moving Wisconsin and its 10 electoral votes, and New Hampshire and its four electoral votes, from tossup to leaning toward Obama.
Finally, CNN is switching Michigan and its 17 electoral votes from leaning toward Obama to safe for Obama. The McCain campaign announced last week that it was shifting its resources out of the once hotly contested industrial state, instead intensifying efforts in Pennsylvania and Ohio.
With these moves, CNN estimates that if the presidential election were held today, Obama would win states with 264 electoral votes and McCain would carry states with 174 electoral votes, with 100 electoral votes still up for grabs. To win the White House, 270 electoral votes are needed. See CNN's Electoral College map
Obama's lead has expanded by 29 electoral votes in comparison with his margin in CNN's last electoral map, which was released on October 1.
The CNN/Time/Opinion Research polls were conduced October 3-6, with 677 likely voters in Indiana, 813 likely voters in New Hampshire, 666 likely voters in North Carolina, 749 likely voters in Ohio and 859 likely voters in Wisconsin. Respondents were all questioned by telephone.
The survey's sampling error is plus or minus 3.5 percentage points in New Hampshire, Ohio and Wisconsin, and plus or minus 4 percentage points in Indiana and North Carolina.
E-mail to a friend

All About John McCain • Barack Obama