(CNN) -- Sen. Barack Obama on Sunday charged that Sen. John McCain's campaign is launching "Swift boat-style attacks" on him instead of addressing the country's problems.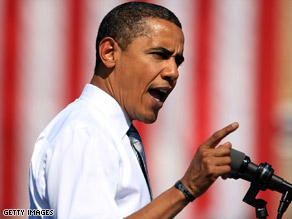 Sen. Barack Obama slams John McCain's health care plan at an event in Asheville, North Carolina.
"Sen. McCain and his operatives are gambling that they can distract you with smears rather than talk to you about substance. They'd rather try to tear our campaign down than lift this country up," Obama said at an event in Asheville, North Carolina.
"That's what you do when you're out of touch, out of ideas, and running out of time," he said.
The comments come a day after Alaska Gov. Sarah Palin, McCain's running mate, claimed that Obama associated "with terrorists who targeted our own country."

Watch what Obama says about McCain »
The McCain campaign shot back on Sunday, saying its accusations are "true facts," and not "smears."
"The last four weeks of this election will be about whether the American people are willing to turn our economy and national security over to Barack Obama, a man with little record, questionable judgment, and ties to radical figures like unrepentant domestic terrorist William Ayers," McCain spokesman Tucker Bounds said in a statement.
"Americans need to ask themselves if they've ever befriended an unrepentant terrorist, or had a convicted felon help them buy their house -- because those aren't smears, those are true facts about Barack Obama."
Obama also continued his heightened attack on McCain's health care plan, calling it "radical" and "out of line with our basic values," reiterating criticisms he made Saturday in Virginia.
The McCain campaign called Obama's attack on McCain's health plan "cynical and deceitful."
"He will say anything to distract the American people away from his basic intention to force millions of Americans to accept government-run health care," the campaign said in a statement.
Don't Miss
Obama's health care plan includes the creation of a national health insurance program for individuals who do not have employer-provided health care and who do not qualify for other existing federal programs. His plan does not mandate individual coverage for all Americans, but requires coverage for all children.
McCain opposes federally mandated universal coverage. He believes competition will improve the quality of health insurance. McCain says he would reform the tax code to offer choices beyond employee-based health insurance coverage. Under the plan, all taxpayers would receive a direct refundable tax credit of $2,500 for individuals and $5,000 for families. Read more about the candidates' health care plans
The back-and-forth comes during a weekend of intensified attacks. The McCain campaign has said that it plans to step up attacks on the Democratic presidential candidate with just a month left before the November general election.
Palin on Saturday slammed Obama's association with former anti-war radical Bill Ayers and accused Obama of associating "with terrorists who targeted their own country." CNN Fact Check
Ayers was a founding member of the radical Weather Underground, which was involved in several bombings in the early 1970s, including attacks on the Pentagon and the Capitol.
Obama and Ayers, now a university professor, have met several times since 1995, when both worked with a non-profit group trying to raise funds for a school improvement project and a charitable foundation. CNN's review of project records found nothing to suggest anything inappropriate in the volunteer projects in which the two men were involved.

Watch the facts on Palin's claim »
Obama campaign spokesman Hari Sevugan called Palin's comments "offensive" and "not surprising" given the McCain campaign's statement that "they would be launching Swift boat-like attacks in hopes of deflecting attention from the nation's economic ills."
The term "Swift boat" refers to how Swift Boat Veterans for Truth launched attacks against Sen. John Kerry in the 2004 presidential race. Kerry was criticized for not quickly condemning the personal ads.
In a new ad that begins airing Monday, the Obama campaign calls the new McCain campaign attacks a "dishonest, dishonorable assault on Barack Obama".
The ad tries to paint McCain as "erratic" and "out of touch," quotes taken from newspaper editorials.
Sen. Dianne Feinstein, D-California, said she found Palin's attack on Obama "shocking."
"He's leading in the polls. He's leading in most of the battleground states. And this is going to be a month, I think, of character assassination. And so the Republican position is to try to assassinate Barack Obama's character and try to place him in a position where the trust that he has built dissipates, the credibility that he has dissipates," Feinstein said on CBS' "Face the Nation."
But McCain supporter Minnesota Gov. Tim Pawlenty said the attacks are relevant because they point to Obama's judgment.

Watch more on Palin's stepped up attacks »
"Now Barack Obama at the time was 8 or 9 years old, or whatever, but that's not the point -- the point is this same individual, Bill Ayers, hosted some sort of political event at his home for Barack Obama when Barack was running for state legislature in Illinois when he was well into his 30s," he said on ABC's "This Week."
Obama has referred to Ayers as "somebody who engaged in detestable acts 40 years ago, when I was 8."
"This isn't about Sen. Obama being 8 years old," Pawlenty said. "This is his judgment when he was starting his political career in Illinois in the mid 1990s."
Obama adviser Linda Douglass said on CNN's "Late Edition" that "Obama has denounced everything [Ayers] did, found him absolutely reprehensible."
iReport.com: What do you think? Sound off with your video commentary
Nancy Pfotenhauer, McCain's economic adviser, said, "the point is that Sen. Obama misrepresents himself, whether it's about his tax policy, his spending policies."
Douglass quickly denied that charge.
McCain and Obama will have a chance to address the issues face-to-face on Tuesday, when they meet in Nashville, Tennessee, for the second presidential debate.
This debate will be set up like a town hall meeting, and the audience will be made up of undecided voters.
Meanwhile, a spokesman for Joe Biden, Obama's running mate, said Sunday that the Delaware senator would be canceling campaign events Monday and Tuesday in the wake of his mother-in-law's death Sunday.
Bonny Jacobs, Jill Biden's mother, had been sick for a long time and was living in a hospice.
Wade announced Saturday that Sunday and Monday's events were canceled after doctors told the family to stay close by.
The death comes the same day Biden's son, Beau, deploys with his National Guard unit to a mobilization station in Texas before a tour in Iraq.
E-mail to a friend

All About U.S. Presidential Election