By Jonathan Mann
(CNN) -- Fortunes were wiped out this week. Washington seemed paralyzed. And Republican vice-presidential candidate Sarah Palin should probably be grateful.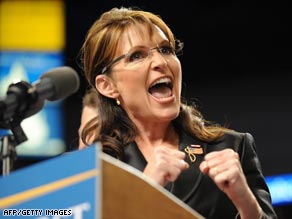 Independent voters have turned against Sarah Palin in recent polls.
In the wild swings of U.S. markets and politics, John McCain's running mate was almost overlooked. That's lucky because Palin has a problem.
The problem is that candidates have to speak; not just in prepared speeches and advertisements, but unscripted and on their own. And Palin hasn't been doing a good job of it. Truth is, she's hardly been doing it at all.
As you read this, Americans will have just seen her debate against Democratic vice presidential candidate Joe Biden -- her biggest unassisted outing yet.
Watch for the reaction. Before the debate, the McCain campaign was very nervous about letting Palin speak her mind near anyone with a camera, microphone or a notebook.
By CNN's count, Biden has done nearly 100 interviews as Obama's running mate. Palin has done three. And they haven't gone well.
In one, she claimed foreign policy experience because she's the governor of Alaska and "you can actually see Russia" from one part of the state.
In another, she couldn't or wouldn't name a single magazine or newspaper that she reads.
Conservative columnist Kathleen Parker was a Palin supporter who gave up after seeing her on TV.
"I watch her interviews with the held breath of an anxious parent," she wrote this week, "my finger poised over the mute button in case it gets too painful. Unfortunately, it often does. My cringe reflex is exhausted."
Most Republicans still love Palin. They crowd her rallies and cheer wildly.
But independent voters could decide the election and they are turning against her.
A pair of Washington post-ABC News polls found that last month, 60 percent of independents had a favorable impression of her. That's down to 48 percent. Her "unfavorable'"ratings rose from 26 percent to 36 percent. And McCain has followed her down a bit in the polls too.
Some Republican strategists say it was a mistake to limit Palin's exposure to the press. She's had very few opportunities to learn how to take tough questions and every one of the encounters has been examined exhaustively because they're so rare.
But the explanation may be simpler. She's new. New, unconventional and defying expectations. Or new, inexperienced and unqualified. Americans are making up their minds.
E-mail to a friend

All About Democratic Party • Barack Obama • John McCain • Republican Party