WASHINGTON (CNN) -- Following the passage of the economic bailout bill Friday, House Speaker Nancy Pelosi said congressional hearings are planned to find the causes of the crisis and to determine "where we go from here."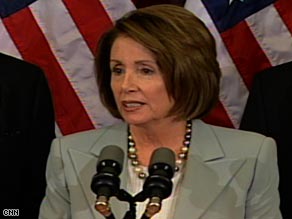 "We were dealt a bad hand; we made the most of it," Speaker of the House Nancy Pelosi said Friday.
She said Congress will shine a new "light of scrutiny and accountability" on the nation's financial system to try to prevent a replay of the problems that plunged the nation into an financial crisis.
Reps. Barney Frank, D-Massachusetts, and Henry Waxman, D-California, plan to hold hearings to increase scrutiny of the financial system, Pelosi added.
"We want to take our country in a new direction for the middle class," Pelosi said.
Frank told reporters Friday that starting in January, Congress will "have a major role."
"We have to rewrite housing in America. ... It would be highly irresponsible if we were to stop here," he said. "Now we have to perform more serious reform."
On Friday, the House passed the $700 billion measure by 92 votes -- 263 to 171 -- with the plan picking up support on both sides of the aisle after going down to defeat in the House on Monday. Interactive: Read the House roll call vote (PDF)
Last Friday, the bill passed the Senate 74 to 25.
Because tax bills must originate in the House, the Senate attached the rescue plan to a bill that deals with renewable energy tax incentives. This allowed the Senate to vote before the House to approve a bailout bill.
President Bush later signed the bill Friday afternoon.

Follow the plan with the Bailout Tracker »
Don't Miss
"These steps represent decisive action to ease the credit crunch that is now threatening our economy," Bush said of the provisions of the bill.
Ben Bernanke, chairman of the Federal Reserve, reacted to the bill's passage, saying in a statement: "The legislation is a critical step toward stabilizing our financial markets and ensuring an uninterrupted flow of credit to households and businesses."
Treasury Secretary Henry Paulson said the bill would meet the varied needs of financial institutions of all sizes.
"Each institution has its own unique benefits, and their collective strength makes our financial system more resilient, and more innovative. The challenges our institutions face are just as varied -- from holding illiquid mortgage-backed securities, to illiquid whole loans, to raising needed capital, to simply facing a crisis of confidence," Paulson said in a statement Friday.
Rep. Joe Knollenberg, R-Michigan, said he changed his vote to "yes" Friday when calls to his office changed after Monday's rejection of the plan in the House.
"A lot of people change their minds [about the bill] after seeing heartbreak in the streets," he said.
At least 21 House members said Friday they had switched positions.
Among the 21 converts was Rep. Jesse Jackson Jr., D-Illinois, said his chief of staff, Kenneth Edmonds.
Senate bailout bill
The Senate bill passed Wednesday night included measures that:
Allow Treasury Secretary Henry Paulson to buy up to $700 billion in bad mortgage-related securities and other bad assets.
Allow the Treasury Department to modify mortgage terms to help homeowners avoid foreclosure.
Permit the government to receive equity in companies it helps so taxpayers get a share of any future profits.
Restrict executive pay for companies aided by the program.
Create an independent oversight board to oversee the Treasury Department program.
Source: Senate Banking Committee
Edmonds said Jackson was changing his vote because "he received assurances from [Sen. Barack Obama] that, if elected, his administration will aggressively use authority in the bill to prevent foreclosures and stabilize the housing market."
Rep. Howard Coble, R-North Carolina, said he planned to switch his vote because constituents began urging him to do so. He said the people he represents initially urged him to oppose the plan.
"By having waited, I think we did improve the bill," he said. "Inaction is not an option.'
Other Republicans who said they planned to change their votes to support the bill included Rep. Ileana Ros-Lehtinen of Florida, Rep. John Sullivan of Oklahoma, Rep. Jim Ramstad of Minnesota, Rep. John Shadegg of Arizona and Rep. Sue Myrick of North Carolina.
Rep. Zach Wamp, R-Tennessee, said he planned to change his vote because "we're out of choices. Our backs are up against the wall."
Besides Jackson, at least 12 Democrats who opposed the bill announced plans to change their vote: Rep. Shelly Berkley of Nevada, Rep. Emanuel Cleaver of Missouri, Rep. John Lewis of Georgia, Rep. Elijah Cummings of Maryland, Rep. Betty Sutton of Ohio, Rep. Mazie Hirono of Hawaii, Rep. Bruce Braley of Iowa, Rep. John Yarmuth of Kentucky, Rep. Bill Pascrell of New Jersey, Rep. Donna Edwards of Maryland, Rep. Lynn Woolsey of California and Rep. Hilda Solis of California.
Senior House Republicans said Friday they were optimistic.
Rep. John Boehner of Ohio, the House Republican leader, said the Senate improved the bill by adding "sweeteners" and passing it by a wide bipartisan margin Wednesday.

View details of some of the incentives »
"Is it perfect? No. But it's clearly better than it was a week ago," he said.
Rep. Roy Blunt of Missouri, the House minority whip, cited three developments that have affected the bill's prospects among House Republicans.
First, he said, constituent calls to House Republicans have evened out among those urging their representatives to support the bill and those urging them to oppose it. In addition, the Securities and Exchange Commission has unveiled plans for new accounting standards.
And the Senate added provisions that please many House Republicans, such as increasing the cap for Federal Deposit Insurance Corporation coverage from $100,000 to $250,000.
"We're optimistic as we go to the floor today," Blunt said. "We feel good about the direction we're headed."
Another factor influencing Republicans, House GOP leaders said, was news that the state governments of California and Florida have reported having trouble accessing credit.
"I am hopeful that there will be bipartisan, majority support for this bill that is critical to stabilizing our nation's economy for all working Americans," House Majority Leader Steny Hoyer, D-Maryland, said in a statement late Thursday.
On Wednesday, Hoyer said he would only bring the bill to the floor if, after talking with Republican leaders, he found "bipartisan majority support" for it.

Watch one congressman who says he won't support bailout »
The modified bailout package included the core measures the House rejected -- a plan that would allow the treasury secretary to buy up to $700 billion in bad mortgage-related securities and other bad assets that are undermining credit markets worldwide -- as well as a mix of other measures that previously passed in the Senate.

Watch how bill gives little to Main Street »
The bailout plan's new provisions made $250 billion immediately available to purchase bank assets, leaving $100 billion at the president's discretion and $350 billion subject to congressional review.
The bill also includes a "mental-health parity" provision, which would require health insurance companies to cover mental illness at parity with physical illness.

Watch what "pork" was added to bill »
E-mail to a friend

All About U.S. Senate • U.S. House of Representatives • Economic Issues