(CNN) -- Hundreds of CNN.com users stayed up late Thursday or got up really early Friday to share their thoughts on the vice presidential debate, and for many, it wasn't lack of sleep that was contributing to the yawns.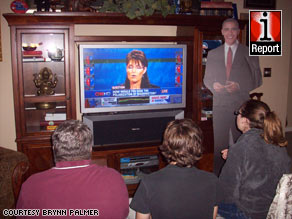 Obama supporters watch Thursday's debate at Brynn Palmer's house in Saint Peters, Missouri.
Frequent iReport contributor Kevin Neugebauer said the debate between Alaska Gov. Sarah Palin and Sen. Joe Biden didn't live up to the hype, which rivaled some heavyweight boxing fights.
"The both were okay," the Katy, Texas, salesman said. "Biden has a lot more experience than Palin, he should have buried her. He didn't do that."
Neugebauer is voting for Sen. John McCain and said Palin did a good job holding her own against Biden. iReport.com: Palin won, connected with middle class
Longtime Democrat Arielle Amao, who's also from Katy, Texas, agreed that Palin did well, but not well enough to sway her vote.
She said she couldn't vote for McCain because she opposes so many of his policies, but "if it were just her, I could see myself going that way." iReport.com: "She rocks"
Democrat Matt Friedrichs tuned in expecting fireworks and said the debate was a letdown.
"Nothing happened. The whole thing , it felt so staged and rehearsed. I was bored out of my mind," the Orlando, Florida, insurance underwriter said. iReport.com: What do you think?
Neither Palin nor Biden's performances were particularly impressive, he said.
"I guess it was a tie overall, but I don't even care, because it was just a waste of time," Friedrichs said. iReport.com: "What a disappointment"
First-time iReporter Dave Keller disagreed and said it was a lot more entertaining than when McCain and Sen. Barack Obama faced off.
"I think both candidates did what they needed to accomplish," the Glendale, Arizona, Democrat said, adding that he wished they would have more debates.
"I really don't think anyone's minds were changed by it," Keller said. "We certainly learned concisely what the positions were for each candidate, which might affect undecided voters." iReport.com: They did what they needed to do
Republican Jarrett Wold says he's voting for Obama, and said Biden clearly won the debate.
"He was definitely vice-presidential, if not presidential, while Palin was not that. Palin was very much the opposite," he said. "She looked like she was trying too hard, she spent a lot of time using rhetoric, repeating herself; and I probably heard the word 'Maverick' about 300 times this debate."
Arturo Navarro of Chula Vista, California, said Palin did much better than he expected, especially after her performance in recent network television interviews.
But Biden won the debate, he said. iReport.com: Palin was the wrong choice
"I think Sarah Palin did a decent job, but some of her answers were not very good," he said. "I think the only good answers that Sarah Palin had were the ones where she agreed with Joe Biden."
But McCain supporter Katy Brown said Palin came "full force" and proved herself to the American people by standing her ground. iReport.com: "What did I tell you?"
Chuck Burkhard says that he hasn't decided who to vote for and that the debate didn't help.
"I'm just a frustrated American. I want them to stop fighting and get something done for us and not themselves," he said. iReport.com: VP debate fails Americans
E-mail to a friend