(CNN) -- Sen. John McCain told CNN Thursday his running mate Sarah Palin will perform well in Thursday night's vice presidential debate against Democratic rival Joe Biden.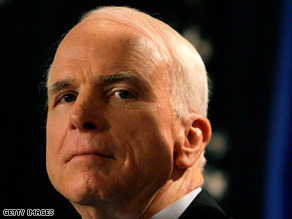 Sen. John McCain will shift resources from Michigan to other key states, according to campaign aides.
"The fact is she'll do fine tonight. She has experience, talent, leadership. She has great inner strength. She has -- an ability to lead that's been proven, taken on her own party," he said. "Joe Biden and Barack Obama have never taken on the leaders of their party on any issue. She's stood up for what's right for the people of Alaska. And she will stand up for what's right for America."
The comments come after Palin has faced criticism for her performance during recent interviews with Katie Couric.
In the two separate interviews, Palin had trouble defending McCain's record on regulation issues, discussing the economic bailout, defining her foreign policy credentials, naming her preferred sources of news, and naming a Supreme Court case she disagrees with.
Asked if Couric's questions were fair, McCain said he would let the American people decide.

Watch CNN's Bill Schneider weigh in on the VP debate »
"I know that there have been attacks on Sarah Palin that have been remarkable to me in many ways, but I have total confidence in her. She's very comfortable in her own skin," he said.
Meanwhile, a senior McCain adviser confirms to CNN that the campaign is "shifting resources" from Michigan to Ohio and Pennsylvania, and "opening up an offensive front" in Maine.
Michigan was always a long shot for McCain, who lost the state to native son Mitt Romney in the Republican primary. A Republican presidential candidate hasn't won there in two decades, since George H.W. Bush's 1988 victory.
But McCain had a surprisingly close showing in some polls, and he made a significant time investment campaigning in the state this year.
Macomb County -- home of the original Reagan Democrats -- was one of the first stops for McCain and his running mate on their post-convention tour of battleground states; they held a town hall in Grand Rapids two weeks ago.
Don't Miss
Local Republican officials told CNN they were thrilled to have Palin on the ticket, saying her accent and love for guns made her someone independents and Democrats uncomfortable with Obama could relate to.
But nowhere does the economy loom larger as an issue than in this hard-hit industrial state, suffering from a decade-long slump. The Obama campaign has tried to capitalize on the Democratic nominee's polling advantage on the issue, running ads in the state that accuse McCain of not doing more to protect Michigan jobs.
As the campaign pulls resources from Michigan, it is ramping up its efforts in Maine, where Republican Sen. Susan Collins is beating national trends in her re-election bid, holding a healthy double-digit lead and running a strong organization in the state.
A second McCain aide said that their polling showed that "Michigan isn't even a long shot" -- but the campaign is hoping to capture at least one of Maine's four electoral votes, which are designated by congressional district. This year, "every electoral vote will count," the aide said.
Also Thursday, McCain jokingly said that Obama's poll numbers are rising as the economy seems to sink "because life isn't fair."
"He certainly did nothing for the first few days," McCain told Fox News on Thursday. "I suspended my campaign, took our ads down, came back to Washington, met with the House folks and got on the phone, and also had face-to-face meetings."
New CNN/Time/Opinion Research Corporation polls of several key battleground states released Wednesday found Obama has made gains across the board -- either taking statistically significant leads or erasing McCain advantages -- over the past few weeks.
Since the financial crisis began in mid-September, Obama has taken and held a lead over McCain in the national CNN poll of polls.
But the Republican nominee said the economic anxiety-fueled poll swing was probably a blip. "Well, first of all, you know very well that these are temporary things,'' he said on MSNBC's Morning Joe. "The focus was on the fiscal crisis we were facing. I understand that. I understand there are going to be ups and downs in campaigns. I'm happy where I am ..."
McCain, appearing on CNN's American Morning on Thursday, also said the economic bailout bill will get passed by the full Congress, and he continued to take a swipe at his Democratic rival's efforts on the bill.
McCain also praised his efforts in getting House Republicans to come together.
The bailout package, which was backed by both the Democratic and Republican congressional leadership, as well as President Bush, failed in the House by a vote of 228 to 205.
Both McCain and Obama, his Democratic rival, voted Wednesday night in favor of the bill. It passed 74 to 25. The bill now goes to the House for a vote.
McCain said he was "proud of the work that I did, particularly engaging the House Republicans who have been completely shut out of any negotiations. It's now going to be a bipartisan and bicameral result."

Watch more of McCain's comments »
"I came back and suspended my campaign and got the House into the negotiations at the table, which they had not been before. We were able to get a large increase in the number of Republicans who voted for it. We were able to make significant changes in the bill, which improved it rather dramatically. And I'm confident it will go through the House of Representatives."
McCain said Obama's approach was to "phone it in" -- in regards to working with congressional leaders.
"That's the difference. I suspended my campaign and put my country first. And even if I had failed, it was still the right thing to do. We didn't fail. It's going to pass."
But McCain himself spent much of weekend speaking on the phone with congressional members in his Arlington, Virginia, campaign headquarters.
Obama, meanwhile, was in Michigan on Thursday, focusing on the economic crisis -- and his solutions to fixing it -- while also criticizing his rival.
"He's talked a lot about getting tough on Wall Street. But over the past few decades, he's fought against the very rules of the road that could have stopped this mess," he said at a rally in Grand Rapids.
"Just two weeks ago, John McCain said the fundamentals of the economy were strong. ... I don't know what yardstick Sen. McCain uses, but where I come from, there's nothing more fundamental than a job," he added.

Watch more on the Senate's Wednesday night vote »
Obama also urged the House to pass the bailout bill.
"These are the quiet storms that our families have been facing for months, if not years. These are the storms that will only get worse if we don't act and act now to pass the rescue plan that's before the House of Representatives," he said.
E-mail to a friend

CNN's Dana Bash, Ed Hornick, Alexander Mooney and Rebecca Sinderbrand contributed to this report.
All About John McCain • Barack Obama • U.S. Presidential Election