From Ed Henry
CNN White House Correspondent
(CNN) -- With the bailout proposal dominating the campaign trail, Sens. John McCain and Barack Obama must balance sending out a message of a bipartisan solution while trying to gain a political advantage.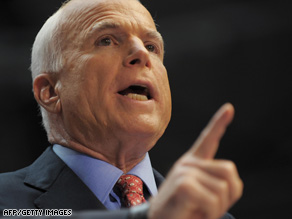 Sen. John McCain has blasted Congress for stalling the bailout.
The presidential candidates have revamped their financial messages this week, shifting away from attacks on each other and intensifying their calls for action from Congress.
The Senate approved the $700 billion financial rescue plan by a vote of 74-25 on Wednesday night, just two days after the bailout failed in the House.
Both Obama and McCain voted in favor, as did Democratic vice presidential candidate Sen. Joe Biden of Delaware.

Watch reaction to the bailout bill passage »
Obama and McCain had urged their fellow lawmakers to rally behind the financial industry bailout, but there is a lot on the line for both candidates.
"I don't think either one wants to wrap himself too much around this package and around this whole issue," said David Gergen, a senior political analyst for CNN.

See our bailout tracker »
Earlier Wednesday, Obama said it is an "outrage" that such action is needed and urged his colleagues to pass the revised plan in the Senate "to prevent the possibility of turning a crisis into a catastrophe."
"There will be time to punish those who set the fire," the Democratic presidential nominee said Wednesday on the Senate floor. "Right now, we need to fight that fire."
Don't Miss
Obama encouraged lawmakers to approve an economic stimulus plan that would benefit taxpayers.
"We're all going to need to sacrifice," he said. "We're all going to have to pull our weight, because we're all in this together."
Advisers to McCain say the Republican candidate is tired of being a political punching bag over the failure of the bailout. The Arizona senator briefly suspended campaigning last week to focus on the financial crisis.
Democrats called the move a political stunt, but Republicans commended him for swaying reluctant lawmakers.
McCain said Monday that excessive partisanship from Obama sunk the deal in the House, but on Tuesday and Wednesday, McCain didn't even mention his rival by name. He instead talked about the need for bipartisanship, and he blasted Congress for not getting enough done.
"If the financial rescue bill fails in Congress yet again, the present crisis will turn into a disaster," he said Wednesday in Kansas City, Missouri.
McCain said "it took Congress a while" to improve the original bill, and "there were costs to these delays."

Watch what McCain says about the bailout »
"But they have awakened to the danger. And today, with the unity that this crisis demands, Congress will once again work to restore confidence and stability to the American economy," he said.

Watch more on McCain's bipartisan pitch »
Obama has also shifted his tone, moving away from the blame game to go to bat for the bailout. His Wednesday "fight that fire" speech on the Senate floor followed similar comments hours earlier in La Crosse, Wisconsin.

Watch what Obama says about the revised plan »
The rhetoric marked a rare time when the nominees agree, both aware of the negative effect that Monday's partisan meltdown on Capitol Hill had on the undecided part of the electorate.
"If you call names and start pointing fingers, it doesn't do you any good going after those independent voters," said John Feehery, a Republican strategist.

Watch more on the shift in tone »
Supporting the rescue plan poses risks for both candidates. Voters have been sending their lawmakers angry e-mails protesting any bailout.
But Republican strategists say McCain, in particular, has little choice but to push for a solution, even if it's controversial.
"I think that for John McCain, not only does he have to look like he's fixing the problem; he has to fix the problem, because at the end of the day, if the economy completely tanks, that's not good for McCain," he said.
Historically, when the economy is in bad shape, it plays better for the party not in power.
A CNN/Opinion Research Corporation Poll suggests that by a 2-to-1 ratio, Americans blame Republicans over Democrats for the financial crisis that has swept across the country the past few weeks.
Gergen said that if Congress can get a bill passed, things could get better for McCain, who now trails Obama by 5 points in the national polls.
"Over the last two weeks, the dynamic of the race has changed. ... The momentum has gone to Obama," Gergen said.
"And you're going to have other economic news over the next 30 days that is going to keep the focus on the economy. And that helps Obama. So McCain, coming out of this ... faces a much tougher fight than he did a couple of weeks ago," he said.
E-mail to a friend

CNN's Tom Foreman contributed to this report.
All About National Economy • U.S. Presidential Election