By Campbell Brown
CNN
Editor's note: Campbell Brown anchors CNN's "Campbell Brown: Election Center" at 8 p.m. ET Mondays through Fridays. She delivered this commentary during the "Cutting through the Bull" segment of Tuesday night's broadcast.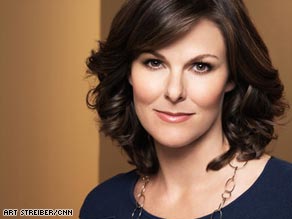 Campbell Brown says politicians need to get their acts together and pass a bailout.
NEW YORK (CNN) -- First thing Tuesday morning, President Bush went on television again and solemnly declared, "For the financial security of every American, Congress must act."
But he didn't explain why he could only get one-third of his fellow Republicans in the House to vote for the bailout Monday.
Of course, we know why. His approval rating is at 31 percent.
He is a classic lame duck in the waning days of his presidency.
And there is very little chance of him rallying the troops for this massive battle.
As for our next president...
• John McCain solemnly declared, "we are in the greatest financial crisis of our lifetimes."

Watch Campbell's commentary »

But he didn't explain why he couldn't get more of his fellow Republicans on board for the bailout vote, either.
• Barack Obama solemnly declared, "This is one of those defining moments when the American people are looking to Washington for leadership."
"No bias, no bull"
The latest on the effort to pass a financial bailout plan "Campbell Brown: Election Center"
8 ET Monday-Friday on CNN
So where was he Monday, when 95 of his fellow Democrats voted against the bailout, too? iReport.com: Do you support a bailout?
As for lawmakers on both sides of the aisle, let me just quote Tuesday's Wall Street Journal editorial page. It's headlined: "Congress lives up to its 10 percent approval rating" and blasts "a Washington elite that has earned every bit of the disdain that Americans have for it. This crowd can't even make sausage."
So where does that leave us? Now that we all have witnessed their collective face plant, can they, will they, hear our plea, and actually get their act together?
The opinions expressed in this commentary are solely those of the writer.
E-mail to a friend

All About John McCain • Barack Obama • George W. Bush