From Emily Sherman
CNN
WASHINGTON (CNN) -- Top lawmakers in Washington disagreed Sunday about the role Sens. John McCain and Barack Obama played in reaching an agreement on the government's $700 billion bailout proposal.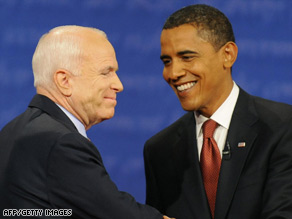 Did Sens. John McCain and Barack Obama help or hurt bailout negotiations?
"I actually think Sen. McCain and Sen. Obama were one of the catalysts of this effort," Republican Sen. Judd Gregg told CNN's Wolf Blitzer on Sunday. "Having them here in Washington highlighted dramatically for the American people just how dangerous this situation was to folks on Main Street."
Not everyone is in agreement with Gregg. Also appearing on CNN, Sen. Chris Dodd echoed a line from many of his Democratic colleagues, saying their presence had the opposite effect.
"Will all due respect," Dodd said, the candidates' presence "delayed and slowed down this process. I think we would have gotten closer to an agreement" had they not come "parachuting in."
He added, "Respectfully, John McCain did not help. In my view, that was a political stunt."
McCain, who suspended his presidential campaign last week to focus on the financial crisis, said Sunday he was not looking for credit. He said Congress and Treasury Secretary Henry Paulson are the ones who deserve all the credit for the bailout negotiations.
"I'm never going to not get engaged when the taxpayers and middle class of America are in danger of losing everything, literally, that they've worked all their lives for," McCain told ABC's George Stephanopoulos. Adding, "I won't claim a bit of credit."
However, McCain strategist Steve Schmidt said Sunday the Republican nominee does deserve recognition for bringing the parties together.
"What Sen. McCain was able to do was to get all sides to the table which resulted in a vastly better bill," Schmidt told a group of reporters Sunday.
Asked if McCain deserves the credit, Obama said no.
"I was on the phone every day with Secretary Paulson and the congressional leaders, making sure that the principles that have ultimately been adopted were incorporated into the bill," Obama told CBS's Bob Schieffer, explaining, "I think, [that] is an indication of the degree to which, when it comes to protecting taxpayers, I was pushing very hard and involved in shaping those provisions."
Sen. Gregg defended McCain against criticism that his return to help with the bill was a political stunt, emphasizing his day-to-day involvement in the negotiations.
"I think he's been extremely constructive dealing with the House Republicans and getting them comfortable with the importance of doing something and doing it the right way," Gregg said.
E-mail to a friend

All About Barack Obama • John McCain