(CNN) -- Who "won" the first presidential debate? According to many iReporters, Sen. Barack Obama came out on top.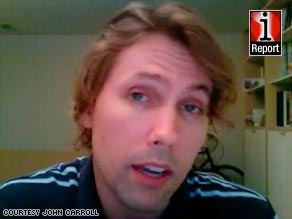 John Carroll says McCain did well, but not well enough to win his vote.
After Friday night's debate between Obama and Sen. John McCain, dozens of iReporters weighed in on which candidate prevailed, and they overwhelmingly chose Obama.
Jemier Jenkins of St. Petersburg, Florida, thought Obama did a good job of getting his message across and explaining his ideas to the country.
"Both candidates did an excellent job, but I would have to give the win to Obama," she said. "He was strong on the economy. He was very strong on issues of national security and foreign policy. Everyone expected McCain to dominate in those areas and Obama really held his own. They went toe-to-toe and he didn't give an inch. He was very confident and knowledgeable on every issue that was discussed ... He did an excellent job of getting his message across without being condescending." iReport.com: 'It went 12 rounds...but I called it for Obama'
Still, some iReporters felt that McCain stepped up to the plate and did a fine job of articulating his plans for the country.
"I think Sen. McCain hit a home run tonight!" wrote Brittany Lyman of Duluth, Georgia, in her iReport. "He answered all the questions asked of him, and was respectful at the same time. I can not say this of Sen. Obama. Several of the questions he skirted around, or pointed out McCain's 'problems,' but never gave his own answer."
Lyman cited health care as one such topic. She says McCain laid out a specific health care plan, but that Obama stated that everyone in the United States needs better health care without discussing how he would accomplish this goal. iReport.com: McCain will make a wonderful president
Don't Miss
The thoughts of the iReporters who wrote in mirrored a national poll of people who watched the debate: Fifty-one percent of those polled said Obama did a better job in the debates, while 38 gave it to McCain.
This CNN/Opinion Research Corp. survey is not a measurement of the views of all Americans, because only people who watched the debate were questioned and the audience included more Democrats than Republicans. Full story
"I think they both did better than expected, but I have to give it to Obama," said David Kronmiller of North Hollywood, California, in his iReport.
"Tonight was a test of character and of how each of these people will fare under scrutiny and under pressure, and I thought between the two that Obama did much better." iReport.com: Who won the fight?
Many iReporters, including Kronmiller, cited McCain's body language in their analysis. They noted that he appeared uncomfortable during parts of the debate and would not look Obama in the eye.
"When the moderator began, he was trying to get the candidates to really speak to each other," said Kathleen Smith of Charlottesville, Virginia.
"I noticed that while Sen. Obama was really trying to engage with Sen. McCain and really just make it a debate, Sen. McCain didn't look him in the eye or really listen to him. Obama was trying to turn and face him and speak to him, and I didn't see Sen. McCain look over, and that's a little disheartening. This is a debate. You can't just ignore the guy." iReport.com: McCain wouldn't make eye contact
Kyle Aevermann, a communications student at Arizona State University, says his studies have taught him to acutely observe body language. He thought McCain looked very uncomfortable throughout the debate, especially when Obama brought up his record.
"Sen. Obama looked both at the audience and at John McCain. He tried to make eye contact," said Aevermann. "But John McCain kind of turned away from Obama. He looked kind of uncomfortable ... He doesn't seem very confident in his answers. I related him to a 10-year-old lying to his parents." iReport.com: Obama wins on body language
Obama supporter John Carroll of West Hollywood, California, had a different analysis. He said McCain did very well in the debate, but not quite well enough to get his vote.
"I was surprised at how well McCain did. He showed a lot of the grit that I really liked about him back in 2000 -- I thought he was a great candidate in 2000. I back Obama now, but he's definitely a person who's very knowledgeable about the issues," Carroll said. "And I do think that Obama missed a couple of obvious responses."
Among the issues where Carroll wanted to see a stronger response from Obama were economic sanctions on Iran, military issues, and McCain's idea of the "league of democracies." iReport.com: McCain did well, but didn't change my mind
Matt Friedrichs was one of the only iReporters to call the debate a tie. Although he thinks Obama and McCain did equally well, he says that's bad news for McCain.
"John McCain, as we all know, is considered the stronger candidate when it comes to the war on terror and national security," said Friedrichs. "So he had the upper hand, which he kind of lost.
"Barack Obama gave good answers; he was in control. He didn't outshine McCain, but he definitely did OK. So that's bad news for John McCain. He was supposed to win this debate. And now he has to do well next time, when they talk about the economy and Barack Obama's going to have the upper hand." iReport.com: It's a tie, but that's bad for McCain

E-mail to a friend