(CNN) -- Now that Sens. Barack Obama and John McCain have their first presidential debate out of the way, the focus turns to their running mates.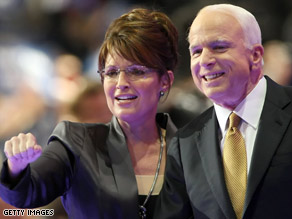 Gov. Sarah Palin and Sen. John McCain will campaign together before the VP debate.
Sen. Joe Biden and Gov. Sarah Palin will face off Thursday at Washington University in St. Louis, Missouri.
There's a lot of anticipation surrounding the VP debate because Palin has remained largely on script in her first month on the campaign trail.
Although Biden has a reputation for impetuous and brutally honest remarks, he's also a long-time senator with decades of experience in the public eye.
As chairman of the Senate Committee on Foreign Relations, the 65-year-old Delaware senator is well versed on foreign policy.
Biden has done nearly 100 interviews since being picked as Obama's VP on August 23.
Palin, on the other hand, did her third interview with a national television network last week. On Wednesday, she held her first media availability with her traveling reporters.
The Republican VP candidate has received less than stellar reviews in the few interviews that she has done.
Palin's interview Wednesday with CBS' Katie Couric drew criticism when the Alaska governor was unable to provide an example of when McCain had pushed for more regulation of Wall Street during his Senate career.
Palin was also criticized last week for appearing not to know what the Bush Doctrine was during an interview with Charlie Gibson.
Don't Miss
Ed Rollins, a CNN contributor and Republican strategist, said Palin has lost her confidence in recent weeks.
"This was a very confident woman, the first presentation she made -- she walked in the biggest crowd she ever had," Rollins said, referring to her debut as McCain's VP. "The second was the convention. She had great confidence. She's lost her confidence."

Watch an analysis of the first presidential debate »
Paul Begala, a Democratic strategist and CNN contributor, said the "public opinion is turning" on Palin, and that could affect her at the upcoming debate.
Palin was criticized heavily for comments she made about Russia in her ABC interview and her claim that her state's proximity to the country bolstered her foreign policy credentials.
Asked by Couric to clarify what she meant, Palin said, "That Alaska has a very narrow maritime border between a foreign country, Russia, and, on our other side, the land-boundary that we have with Canada."
Begala saw that as a flop both for her and the McCain campaign.
"Candidate confidence is one of the most important things, set aside my own ideology concerns for her. They undermined that confidence," he said. "You know, to use a sports analogy, it's like if a pitcher throws a bad game, or -- you know, you put him right back in. Right? You have to show the candidate that you have faith in him or her, in this case.
"And she should have had a good answer, though, and she didn't. And that suggests that they're not building her confidence or briefing her the way they are," he said.
But Palin has shown that she can play the role of attack dog, as she did in her acceptance speech at the Republican National Convention this month.
In that speech, she tore into Obama as two-faced, inexperienced and intoxicated by the sound of his own voice. Biden praised her speech as "incredibly well crafted and delivered" but said Palin's rhetoric lacked substance.
In what could play to Palin's benefit, campaigns try to downplay expectations for their candidates while raising expectations for their opponent, as they did before Friday's presidential debate.
Palin was to spend Saturday and Sunday preparing for the debate in Philadelphia, Pennsylvania. She'll campaign with McCain in Columbus, Ohio on Monday, and will spend the rest of the week practicing for the debate in St. Louis.
Biden was campaigning with Obama in North Carolina on Saturday.
The vice presidential debate has a slightly different setup from the presidential debates.
One of the presidential debates is set up like a town hall meeting, but in the other two, there are approximately eight 10-minute segments. The moderator introduces each segment with an issue and gives each candidate two minutes to respond. Then there is a five-minute discussion period, when direct exchanges between the candidates will occur.
The vice presidential debate will resemble the traditional presidential event. However, the New York Times reported last Sunday that the McCain campaign sought to limit the time for freewheeling discussion in the vice presidential debate.
Advisers to Palin were reportedly worried that format could put the Alaska governor -- a relatively inexperienced debater -- on the defensive most of the evening.
The agreed-upon format for that debate now includes an abbreviated two-minute discussion period during which the candidates can engage each other.
E-mail to a friend

All About Joseph Biden • Sarah Palin