WASHINGTON (CNN) -- Rep. Barney Frank, a high-ranking Democrat, said he is convinced that by Sunday, lawmakers will reach a deal on the proposed $700 billion bailout of the nation's financial system.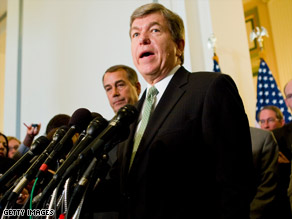 House Republicans are sending Rep. Roy Blunt of Missouri to bailout negotiations at the Capitol.
A Democratic source said it seems likely that the Senate might not vote on any bailout bill until Wednesday, though Sunday night is still a possibility.
The source said that when a plan is reached, Congress will not authorize a full $700 billion expenditure at once. Instead, it will be broken into a series of smaller transactions. The amount of the initial allotment continues to change, the source said.
The talks had stalled after House Republicans said they couldn't go along with plans devised by the White House. Later, congressional leaders on both sides said they would send representatives to take part in negotiations.
Staff level negotiations on the bailout plan are ongoing, though lawmakers said they would not be working through the night Friday.
Frank, the House Financial Services Committee chairman, said that despite some setbacks, he believes a Sunday deal is likely.
"We're back on the progress track. We had a little bit of a glitch yesterday," Frank said. "Now that Sen. McCain is safely in Mississippi, we can get back to serious work. I am convinced that by Sunday, we will have an agreement on this bill that people will understand."
Negotiations continued Friday, with some Republicans cautioning against what some called a rush to judgment on the $700 billion bailout.
Rep. Ted Poe of Texas said the "politics of fear" permeate the issue.
"We've been asked to rush to judgment on this," he said. "The politics of fear seem to be everywhere in the capital this week: 'We have to get this done by a deadline.' I think not. I don't think that the American taxpayer should have a financial gun put to their head."
A letter from Minority Leader John Boehner, R-Ohio, to House Speaker Nancy Pelosi, D-California, outlined the economic rescue principles that the working group came up with and asked that the House give them "serious consideration." It called for Wall Street to pay for the recovery by injecting private capital -- not taxpayer dollars -- into the financial markets.
Easing tax laws would prompt investors to put in their own dollars, they said.
The plan also calls for participating firms to disclose the value of the mortgage assets on their books, an end to Fannie Mae and Freddie Mac's securing "unsound mortgages," a review of the performance of the credit rating agencies and audits by the Securities and Exchange Commission of failed companies to ensure their financial standing was accurately portrayed.
"People need to know that we're going to be OK," Rep. Michael McCaul, R-Texas, said at a GOP news conference. "It's going to be all right. It's OK to take a long, prudent look at a proper solution."
Earlier in the day, after a series of breakdowns in bailout talks, House Republicans had said they would not take part in Friday's negotiations. They later said they were sending Rep. Roy Blunt of Missouri, their No. 2 leader, to the talks at the Capitol.
The other three negotiators are Sen. Christopher Dodd, D-Connecticut; Sen. Judd Gregg, R-New Hampshire; and Rep. Barney Frank, D-Massachusetts.
Financial markets dropped Friday morning in reaction to news that talks had broken down Thursday night, giving new impetus to Friday afternoon's four-party talks, Gregg said.
"They're telling us we better do something, and they're telling us in pretty stark terms," Gregg said of the financial markets.
Don't Miss
"We're determined to get it done," Dodd, the Senate Banking Committee chairman, said of a bailout agreement. "The American people expect nothing less."

Watch Dodd detail the Democrats' demands »
Senate Majority Leader Harry Reid, D-Nevada, said lawmakers would stay in Washington past Friday's planned recess for November campaigning.
"We're going to get this done and stay in session as long as it takes to get it done," Reid said.
A deal seemed tantalizingly close Thursday, but House Republicans said Friday that their objections were known to all parties well in advance of a contentious meeting Thursday night at the White House.
"The legislative process is sometimes not very pretty," President Bush said Friday.

Watch Bush's statement »
House GOP leaders have been pushing a plan that they argue would not use taxpayer dollars, but it's a proposal that Treasury Secretary Henry Paulson has said would not work.
Frank said a bailout "just cannot happen" without the support of House Republicans.

Watch how the deal broke down »
Democratic leaders questioned the involvement of GOP presidential nominee Sen. John McCain in the House Republicans' opposition to the plan.
Reid said Friday that McCain had gotten in the way of a deal, and he called on him to give a clear indication of what he expects from any plan to rescue the economy.
"We still don't know where he stands on the issue," Reid said of McCain.

Watch Reid say McCain got in the way of a deal »
But Blunt said Friday that House Republicans may have stayed out of any negotiations if McCain hadn't become involved.
"We have been down that take-it-or-leave-it road and ... until John McCain came back to Washington this week, Republicans were very much on the leave-it side of it," Blunt said. "He got the discussion going in the direction we wanted to see it go all week."
Gregg said Friday afternoon that the involvement of McCain and his Democratic opponent, Sen. Barack Obama, helped push negotiations forward.

Stormy meeting at White House
McCain had met with House Republicans on Thursday before a White House meeting with Bush, congressional leaders and the two presidential candidates meant to speed approval of an agreement.
It became clear at the meeting that Republicans were not unified.

Watch discussion of why the bailout stalled »
Tempers flared, and just hours after some negotiators said they were close to a deal, negotiations collapsed.
Paulson, fearing a nose dive in financial markets in reaction, half-jokingly bowed on one knee to plead with Pelosi to keep mum about the collapse, two senior Democratic aides said.
Boehner, said House Republicans had made no secret of their opposition to the plan envisioned by the White House and Democrats.
"I don't know what games were being played at the White House yesterday," he said Friday afternoon.

Watch voters' opinions on economic fixes »
Republican House members detailed their objections Thursday evening.
"We've been listening to the American people, and the American people have told us that they don't want to foot the bill," said Rep. Judy Biggert, R-Illinois.
E-mail to a friend

CNN's Kate Bolduan, Ed Henry, Deirdre Walsh and Lesa Jansen contributed to this report.
All About John McCain • Barack Obama • National Economy