NEW YORK (CNN) -- Gov. Sarah Palin took questions from reporters who travel with her campaign Thursday for the first time since being tapped as John McCain's running mate.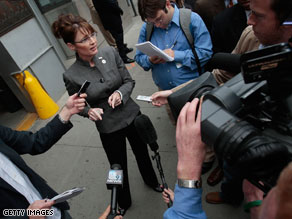 Gov. Sarah Palin speaks with a handful of reporters in Manhattan on Thursday.
Reporters were told 20 minutes ahead of time that, after a visit to ground zero in lower Manhattan, Palin would make a statement and then there would be an opportunity for questions.
In her first media availability of the campaign, Palin spoke only to a few reporters, not her full press corps.
After her statement, she answered four questions about the war on terrorism, the re-election bids of Alaska's Sen. Ted Stevens and Rep. Don Young, and the bailout legislation in front of Congress. Read the transcript
The Q&A session followed weeks of criticism about her lack of access to the media.
On Wednesday, the Republican vice presidential candidate gave her third network interview, this time with CBS' Katie Couric.
In comparison, Sen. Joe Biden has given 89 national and local interviews, according to the campaign.
"I have never seen a presidential or vice presidential nominee, in my lifetime, be so inaccessible to the national media," said Howard Kurtz, a Washington Post and CNN media critic.

Watch why some say Palin is avoiding the media »
This week, Palin met with international leaders on the sidelines of the United Nations' General Assembly meetings in New York, but once again, she was largely shielded from reporters.
At first, the campaign said Tuesday that no reporters would be allowed in on the meetings, only a photographer and camera crew.
McCain-Palin campaign officials shifted course after being informed by television news organizations that they would not broadcast footage of her meeting with Hamid Karzai, the president of Afghanistan, if a reporter was not allowed in to observe the pair.
CNN, which was the pool network for the event, was told that a CNN producer would be allowed in the room to act as a media representative just minutes before the photo op was scheduled to take place.
However, print reporters and wire services were not allowed to observe the meeting, as they have been able to do at similar McCain events in the past.
The press caught only a brief glimpse of the vice presidential nominee; CNN's producer and other photographers were allowed in the room for just 29 seconds.
McCain-Palin press representatives later chalked up the restrictions to a "mixup, a miscommunication among staff."
The full pool -- a print and wires reporter and a television producer -- was then allowed in to observe Palin's meeting with Colombian President Alvaro Uribe for about 20 seconds.
Palin's supporters say she doesn't need to field questions from a number of reporters.
"Are the media going to continue to put pressure on her? Yes, but they're the ones that seem to be frustrated, not the folks in the states that she's visiting," said Leslie Sanchez, a Republican strategist.
Michael Carey, a columnist for the Anchorage Daily News who has been covering Palin for two years, said things have changed since she became the VP nominee.
"She had a good relationship with the press here. Reporters got access to her when they needed to," he said. "The Anchorage Daily News has not talked to her since August 30, and we're the hometown newspaper. That ought to tell you something."
But what it's telling some media observers is that the McCain campaign is being very cautious.
"The McCain campaign says that she is entirely qualified to be a heartbeat away from the presidency. If that's the case, surely she can handle some questions from mere journalists," Kurtz said.
E-mail to a friend

CNN's Jason Carroll and Peter Hamby contributed to this report.
All About Sarah Palin • U.S. Presidential Election