ANCHORAGE, Alaska (CNN) -- A Democratic state representative in Alaska asked state troopers Wednesday to investigate possible witness tampering in a legislative investigation of Gov. Sarah Palin's decision to fire the state's public safety commissioner.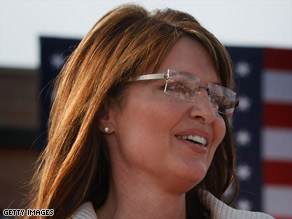 A state representative wants authorities to get involved in a legislative probe involving Gov. Sarah Palin.
Since Palin became Sen. John McCain's running mate, at least three witnesses have declined to cooperate despite receiving subpoenas in the investigation, Rep. Les Gara said Wednesday in a letter to the director of the Alaska State Troopers.
The McCain campaign dismissed Gara's letter and reiterated its position that Palin will cooperate with a state Personnel Board investigation instead of the legislative probe, which the campaign has described as being "tainted" with partisan politics.
"This is nothing more than an absurd political maneuver from a partisan Democrat working with the Obama campaign," McCain spokeswoman Meg Stapleton said in a statement.
"As the independent Personnel Board investigation begins under the leadership of a respected former prosecutor -- who is a registered Democrat -- it appears that Obama partisans are fearful that their opportunity to drag Sarah Palin through a politicized kangaroo court may be slipping from their grasp...."
Gara told CNN on Wednesday that he would like state troopers to determine whether anyone violated Alaska law by discouraging someone from cooperating with the legislative investigation.
"Until Gov. Palin was appointed to the McCain ticket, everybody was fine with proceeding with the investigation," he said. "Then, the McCain campaign sent up 30 people to the state and, all of a sudden, people are not participating in the investigation."
Don't Miss
In his letter, Gara asked troopers to investigate possible "criminal witness tampering," saying that it's possible that "certain persons" induced witnesses not to cooperate with the legislative investigation, which was authorized by a bipartisan vote before Palin joined McCain's ticket.
Gara "is not alleging that a particular person has engaged in witness tampering" but noted that "certain staff for the McCain campaign came to Alaska in an effort to block" the legislative investigation. He noted that two McCain staffers "have held multiple press conferences in Anchorage to block the investigation."
Gara praised Obama in a letter, dated January 30, that is published on the Web site of The Juneau Empire, a newspaper in Alaska's capital. His letter urged Democrats to vote for Obama in Alaska's Democratic primary on February 5.
Walt Monegan, the state's former public safety commissioner, says he was sacked after he refused to fire the governor's ex-brother-in-law, a state trooper who was involved in an acrimonious divorce from Palin's sister.
Palin has denied any wrongdoing. Her advisers have said that Monegan was fired for insubordination after he continued to press for funding for projects the governor opposed.
Monegan has vehemently denied charges of insubordination and has told CNN that he was a "team player" who never did anything without approval.
The Legislature's inquiry is scheduled to be completed by October 10.
State Sen. Hollis French, who is managing the probe, has been under fire since a September 2 interview with ABC News in which he said the inquiry could lead to an "October surprise" for the GOP ticket.
E-mail to a friend

All About Sarah Palin • Alaska