By Jonathan Mann
(CNN) -- John McCain was a U.S. military pilot who spent nearly six years as a prisoner of war in Vietnam. He was shot down, beaten and tortured. So by comparison, things aren't going that badly right now. But in a way, it's like he's been shot down all over again.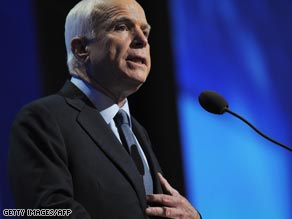 The economic crisis is reminding voters about Republican John McCain's record.
It was only two weeks ago that McCain's campaign was flying high, its energy and enthusiasm fueled by his choice of running-mate Sarah Palin.
The Republicans were actually leading in public opinion polls for the first time since the start of the campaign.
But then the financial markets collapsed and McCain started spiraling downward.
It's not that the Democrats have done so well, it's that the trouble on Wall Street reminds voters of McCain's own weaknesses.
The first is a lack of expertise. He told one interviewer last year "Economics is not something I've understood as well as I should."
The second problem for McCain is that he's a free-market Republican, who believes that everyone profits when the government stays out of the economy.
McCain opposes intrusive regulation of private business and big public spending.
Now, though, it seems that more intrusive regulation might have kept Wall Street from its disastrous excesses.
Having missed that opportunity, the Bush Administration says that big public spending may be the only way to prevent a complete collapse.
McCain also has a very personal tie to financial disasters: he was publicly reprimanded by his Senate colleagues for poor judgment in the last one.
Back in the 80s, he tried to pressure regulators to ease their investigation of a business that belonged to one of his campaign contributors. That business, Lincoln Savings and Loan, ultimately collapsed, one of hundreds of financial institutions that went bankrupt in a $100 billion crisis not unlike the one the U.S. is facing today.
The result is that McCain has fallen back behind Barack Obama. According to our latest CNN/Opinion Research Corporation poll, more voters plan to vote for Obama than McCain (51 percent to 46 percent). More voters also believe Obama would be better able to manage the economy (53 to 43 percent).
The election isn't until November so McCain has some time. But he's best known as the Vietnam veteran who wants to win the war in Iraq. Wall Street is no place for him to be fighting.
E-mail to a friend

All About Democratic Party • Barack Obama • John McCain • Republican Party