By Rachel Rodriguez
CNN
(CNN) -- Improving the education system. Researching alternative fuels. Nationalizing health care. Paying off the debts of the American people.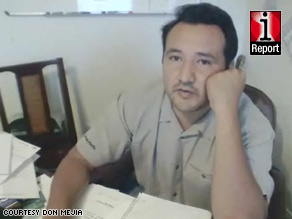 Don Mejia of San Antonio, Texas, says he thinks the government should give a $700 billion bailout back to taxpayers.
iReporters have plenty of ideas about what the government should do with $700 billion, and most of them don't involve bailing out failing financial giants.
Federal officials are debating a $700 billion bailout that the Bush administration said is necessary to save the American economy. Although Federal Reserve chairman Ben Bernanke says the plan is vital, both parties -- not to mention the American people -- have voiced serious concerns about its price tag. CNN.com iReporters shared what they would rather do with all that cash.
Many iReporters agreed with the sentiments of Michael Thies: "Instead of bailing these companies out, bail out the people!" he said.
"If they want to send money, don't send it to the mismanaged companies and let them mismanage further," he said. iReport.com: Will the bailout work?
"Pay off the debts of as much of the American public as you can. And if they don't have debt, give it to them in a check. Then we can start saving for our future properly and move on." iReport.com: Bail out the people
Michele Wallace seconded the idea of giving the money directly to the American people. Her family is struggling with mortgage and car payments, and her husband lives apart from the rest of the family during the week so he can be closer to work and use less gas.
iReport.com: 'I would pay off my house'
Wallace said if all her family debt was paid off, her family could live comfortably on their current income.
"Instead of bailing out the companies (which doesn't help the consumer), bail out the consumers that have lost their jobs, taken pay cuts or are being threatened with foreclosure," she wrote in her iReport.
iReport.com: Reader Don Mejia suggests giving $700 billion back to taxpayers
George Craig wants to use part of the money to increase regulation in the financial industry. That way, he said, we can avoid situations like this in the future.
"Without some stabilizing influences, the mortgage market will continue to destabilize," wrote Craig in his iReport. He included a list of several other markets that he says need more regulation, including credit cards, credit default swaps, and stock options.
We could avoid other future problems by using it to create more jobs, especially in industries like alternative energy and telecommunications, he said. iReport.com: Read Craig's 15-point plan to turn around the economy
Other iReporters would use the money for different government programs, such as health care and education.
"If the government is throwing around that much money to help these companies, I think they should have thrown around some money for health insurance and the people that need serious help in this country," said Nicole Sostak, who is currently uninsured. "It could ruin a person." iReport.com: 'Something has to be done about health insurance'
"Our education system is broken," said Brandon, who asked to be identified by first name due to his military affiliation.
"If the United States plans on remaining a superpower, then we'd better act and act quickly on the state of our up-and-coming generations."
"We all need money, but we've never expected the government to bail us out," he added. iReport.com: Spending $700 billion on education, alternative energy, and the military
And Katherine Taheri proposed a unique solution that could raise revenue while letting Americans choose whether or not to participate in the bailout. She thinks the federal government should create a "financial bailout bond."
"I don't know the details of how bonds work, but it seems to me that this would give the opportunity for the treasury to regain the money it loses," she said. "Then those that support the bailout can really support it, and those that don't do not have to contribute."
"I could use a bailout too!" added Taheri, who owns an Irish pub in Cartersville, Georgia. "The last thing I want to hear is that a way to save money is to not go out to eat so much." iReport.com: The financial bailout bond plan
E-mail to a friend