ANCHORAGE, Alaska (CNN) -- Republican campaign officials indicated they are done answering questions about an investigation into Alaska Gov. Sarah Palin's firing of her public safety commissioner Tuesday, citing a request by a state investigator.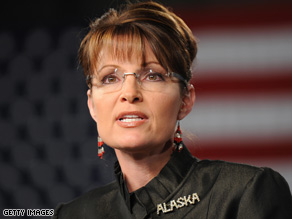 Alaska Gov. Sarah Palin is being investigated for the possibly improper firing of a state official.
"He has asked to keep things confidential, so we will respect those wishes," campaign spokeswoman Meg Stapleton told reporters.
Palin has dropped an earlier pledge to cooperate with a probe by the state Legislature, with aides arguing it has been "tainted" by partisan politics since she became Sen. John McCain's running mate. But Stapleton said Palin's lawyers have agreed to "general parameters of immediate cooperation" with the investigation she requested from the state Personnel Board, which has hired Anchorage lawyer Timothy Petumenos to conduct the inquiry.
"The governor waived confidentiality, and Mr. Petumenos has just stated as of this moment that he would like for things to remain confidential," Stapleton said. "So that is why we are telling you as of today, we are no longer going to be discussing aspects of this as directed by Mr. Petumenos."
Stapleton said Petumenos -- a registered Democrat -- has pledged to run a "fair and impartial" investigation. She said Palin's staff is working to schedule interviews for the governor and her husband, Todd, who refused last week to comply with a subpoena issued in the legislative probe. And Petumenos has asked for a list of documents and e-mails from her lawyer, she said.
"This governor cannot wait for her story to be told," Stapleton said. Asked why the governor did not air that story publicly, she said, "We are working with her schedule right now."
Monegan says he was fired after he refused to fire the governor's ex-brother-in-law, a state trooper who was involved in an acrimonious divorce from Palin's sister. Palin has denied any wrongdoing, telling Fox News last week that Monegan was "insubordinate" in disputes over budget issues.
The Legislature's inquiry is scheduled to be completed by October 10. The state senator managing the probe, Anchorage Democrat Hollis French, has been under fire since a September 2 interview with ABC News in which he said the inquiry could lead to an "October surprise" for the GOP ticket.
No date has been set for completing the personnel board probe, which Palin's campaign argues is the proper legal venue for the investigation. Under state law, those investigations can take as long as two years.
Campaign spokesman Ed O'Callaghan said he believed Petumenos would act in "an expedited manner," but that results may not emerge before the November elections.
"If that is concluded before the election, so be it. If that is concluded after the election, so be it," he said.
O'Callaghan, a former federal prosecutor brought in by the McCain campaign, said it was "frankly irresponsible" for investigators to set a deadline. But a leading Republican lawmaker told CNN that the legislative investigation into Monegan's firing needs to go ahead despite the increasingly heated opposition of the campaign.
Rep. Jay Ramras, the chairman of the House Judiciary Committee, said Tuesday that he still has confidence in the special counsel hired by the state Legislature and said there was "zero chance" that efforts to shut down the probe would succeed.
"There's no question the report is going to be produced," he said. "There is a question of which folks will participate in it and which ones won't."
For more than a week, Stapleton and O'Callaghan have held routine "truth squad" press conferences to criticize French and accuse Democratic presidential nominee Barack Obama's campaign of attempting to manipulate the probe. Ramras discounted the criticism as a result of national politics.
"The hyperbole from the truth squad is a little farfetched," he said. "To those of us who have monitored this thing from the front-row seats, it's a misnomer."
Stapleton said she had no comment on Ramras' remarks.
Ramras said he is supporting the McCain-Palin ticket, though he and Palin have clashed on other issues. His committee concurred with the September 12 decision to issue subpoenas to Todd Palin and a dozen others, and the swing vote in issuing those subpoenas was a state senator he described as "a conservative, pro-life Republican."
"We all took an oath of office, and this is an important report to come out," he said.
E-mail to a friend

-- CNN's Matt Smith and Tracy Sabo contributed to this report.
All About Sarah Palin • Alaska • Todd Palin • John McCain