(CNN) -- Former President Bill Clinton urges Americans to "think through here what is the right thing to do for themselves and their families and for our country" when they vote in November, in an interview with CNN's Larry King due to air Wednesday.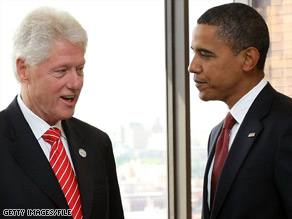 Bill Clinton, who hosted Barack Obama at his office this month, said he would campaign for the Democrats.
"We're going to have to make this election about something real," Clinton tells the long-time interviewer.
"Who is on your side? Who is for your future? Who would be best for America and for the world? Who is going to bring back the American dream and define it in 21st century terms so that it's really achievable for people? And who is going to restore our standing in the world?" Clinton asks.
He expresses his support for Sen. Barack Obama -- and predicts he will win the election -- but also offers praise for Sen. John McCain, the Republican candidate, and his running mate, Alaska Gov. Sarah Palin.
Clinton says he likes and admires McCain, and describes him as the "only Republican with a chance to win."
Palin, he says, has "good political instincts."

Watch what Clinton has to say about Palin »
"I think that she and her husband and their kids come across gutsy, spirited and real. I have significant disagreements with her about any number of social and economic issues but I find her an appealing person and I think that it's best to say that Sen. McCain looks like he knew what he was doing. He picked somebody who gave him a lot of energy, a lot of support," Clinton says.
But he adds that the plain-spoken Alaskan has energized Democrats as well as Republicans.
"She also helps Sen. Obama," the former president says. "When the Obama supporters -- the Democrats -- found out she lights a fire under the right and got McCain more money and more volunteers, then in turn, there was a reaction and Sen. Obama started raising more money and getting more volunteers."
He says he plans to campaign for Obama in key states starting next month.
"I intend to go to Florida, to Ohio, to northeast Pennsylvania, and to Nevada at a minimum," he says, and "may" campaign in Arkansas, his home state, plus raise funds in California and New York.
He says he expects Obama to win, although polls show the race neck and neck.

Watch Clinton offers his thoughts on presidential race »
"Because of the condition of the economy, because of the demographics of America growing more diverse, younger, more open to the diversity of the Democratic Party, and because Sen. Obama is, I think, not only charismatic, but really smart and a very disciplined candidate who has handled himself, I think, by and large remarkably well, I've always thought that in the end he would come out ahead," Clinton says.
He denies that his wife -- who fought hard for the Democratic Party nomination herself, ceding to Obama only after an unprecedented 50-state race -- has been a reluctant campaigner for the senator from Illinois.
"She has done more than all other runner-ups have in the Democratic Party in 40 years. We have been quite clear on this. We're not party-wreckers, and we believe that the country needs to take a different course."
E-mail to a friend

All About Bill Clinton • U.S. Presidential Election