ANCHORAGE, Alaska (CNN) -- Alaska Gov. Sarah Palin's lawyer met Monday with the independent counsel hired by the state Personnel Board to discuss that agency's investigation into her firing of Alaska's public safety commissioner, campaign officials said.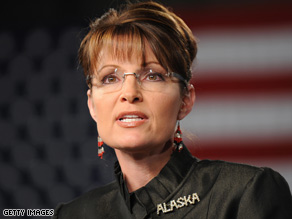 Alaska Gov. Sarah Palin is being investigated for the possibly improper firing of a state official.
Palin, the Republican vice presidential nominee, has been battling allegations she fired Public Safety Commissioner Walt Monegan for improper reasons in July.
Palin's attorney, Thomas Van Flein, met with special counsel Timothy Petumenos to discuss documents and witness interviews, campaign spokeswoman Meg Stapleton said.
Stapleton was asked whether Palin would agree to be interviewed by the special counsel. "If necessary and Mr. Petumenos wants it, absolutely," Stapleton replied.
"We believe and expect Mr. Petumenos has demonstrated that he is fair and impartial and is searching for the truth and facts behind Monegan's reassignment," Stapleton said. "The governor stands ready to cooperate."
Monegan says he was fired after he refused to fire the governor's ex-brother-in-law, a state trooper involved in an acrimonious divorce with Palin's sister.
Don't Miss
Palin has denied any wrongdoing, telling Fox News last week that Monegan was "insubordinate" in disputes over budget issues.
She originally agreed to cooperate with the state Legislature's probe of the affair, which was launched by a bipartisan committee in July. But since she became Sen. John McCain's running mate in August, Palin argued the legislative inquiry has become a partisan matter.
The governor now insists the Alaska Personnel Board is the "only legal form in the state for the Monegan inquiry," as Stapleton told reporters.
Palin has asked the Personnel Board to review and dismiss Monegan's allegations.
The three-member Alaska Personnel Board is appointed by the governor. The current members were appointed by Palin's predecessor, Frank Murkowski, though she reappointed one earlier this year.
Last week, Palin's husband Todd and several top aides refused to comply with subpoenas issued by a state Senate committee on September 12, arguing the probe was illegitimate and that the governor was protected by a state law that bars ethics investigations of candidates for state office.
The Legislature's inquiry is scheduled to be completed October 10. But the lawmaker managing that probe, Democratic state Sen. Hollis French, has been the target of GOP attacks since a September 2 interview with ABC News in which he suggested the investigation could yield an "October surprise" for the ticket.
Republican lawmakers filed suit in Anchorage, asking a judge to shut down the investigation, and a similar suit was filed by Palin supporters in Fairbanks, Alaska.
Stapleton said Petumenos, who will have subpoena power, was "truly acting independent." And campaign spokesman Ed O'Callaghan said the campaign was "not privy" to details of what the personnel board was seeking.
O'Callaghan, a former federal prosecutor, said he was consulting with Van Flein "as he requests."
E-mail to a friend

CNN's Tracy Sabo contributed to this report.
All About Sarah Palin • Alaska