From Rebecca Sinderbrand
CNN Associate Political Editor

WASHINGTON (CNN) -- As the nation's financial crisis tops headlines and dominates campaign trail discussion, Sens. John McCain and Barack Obama released a flurry of television ads within a few hours that play off a rising sense of economic anxiety.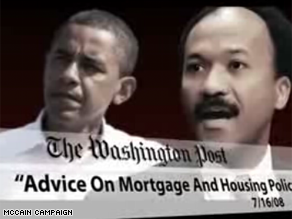 Sen. John McCain's new ad links Sen. Barack Obama to ex-Fannie Mae CEO Franklin Raines.
The McCain campaign released an ad linking Obama to former Fannie Mae CEO Franklin Raines. "Who advises him?" the female announcer says. "The Post says it's Franklin Raines, for 'advice on mortgage and housing policy.' "
The Washington Post quote cited in the McCain campaign's release said that Raines has "taken calls from Barack Obama's presidential campaign seeking his advice on mortgage and housing policy matters."
The Obama campaign sent out a statement from Raines denying the allegations in the McCain ad: "I am not an adviser to Barack Obama, nor have I provided his campaign with advice on housing or economic matters."
Obama spokesman Bill Burton called the charge "another flat-out lie."
The Obama campaign responded with a spot taking aim at McCain's economic advisers.
Don't Miss
"Carly Fiorina, the fired CEO who got a $42 million golden parachute," the announcer says. "Phil Gramm, the ex-senator who pushed through deregulation and called Americans hurt by this economy 'whiners.'... Then there's George Bush, whose disastrous policies McCain wants to continue."
Fiorina, the former Hewlett-Packard chief executive, is McCain's Victory chair. Gramm officially left the campaign after his headline-grabbing comments earlier this year.

Watch CNN's Jack Cafferty weigh in on the candidates and the economy »
Early Friday, McCain's team returned fire with a commercial about Obama's relationship with Jim Johnson, the former Fannie Mae chairman who resigned as head of the Democrat's vice presidential vetting team after allegations he had received preferential terms on a mortgage from Countrywide Financial.
"What Obama says ... is not what he does," begins the announcer, as a clip plays of Obama denouncing windfall profits for executives of financially troubled institutions. "Meet Jim Johnson, former Fannie Mae CEO. Fannie cooked the books and Johnson made millions. Then Obama asked him to pick his VP. And raise thousands for his campaign. Barack Obama. More empty words."
But the air wars aren't limited to economic advisers: Another McCain spot picks up on the Republican nominee's criticism this week of a "big spending, greedy, do nothing, me first, country second crowd in Washington."
"When our economy's in crisis, a big government casts a big shadow on us all. Obama and his liberal congressional allies want a massive government, billions in spending increases, wasteful pork," says the narrator. "And we would pay -- painful income taxes, skyrocketing taxes on life savings, electricity and home heating oil. Can your family afford that?"
Independent fact checkers have determined that the vast majority of taxpayers -- all except the wealthiest Americans -- would get a larger break under Obama's plan than McCain's. The Republican nominee has said that his is focused on easing the tax burden on small businesses to promote economic growth.
Obama aides argue that the cost estimates assumed by the McCain team make no allowance for savings most Americans would see as a result of reduced health care and energy expenses, and jobs created by investments in new environmentally friendly industries.
Earlier this week, Obama released a spot about the closing of a Pennsylvania factory, the latest in a series of ads blaming McCain for the loss of "Rust Belt" jobs by pointing to the disappearing manufacturing base in that state, Ohio and Michigan.
McCain's campaign has responded with two positive spots -- on aimed at Ohio, the other at Michigan -- that tout GOP job-creation proposals.
"Michigan families depend on the auto industry. John McCain and his congressional allies know it," says the announcer. "Loans to upgrade assembly lines. Tax credits to boost sales of clean vehicles. Offshore drilling to reduce the cost of gas and spur truck sales. And financial reforms to protect your retirement. Change is coming."
Independent fact checkers have said that offshore drilling will have no short-term, and little long-term, impact on gas prices, but McCain has said it would be useful as a symbolic gesture to signal U.S. resolve not to be dependent on foreign oil.
The campaigns have said that most of these 30-second ads will be televised nationally, or on national cable, but have not released the extent of the buys.
Both candidates already have released half a dozen economy-themed spots this week, following the collapse of Lehman Brothers, the buyout of Merrill Lynch and the government bailout of insurance giant American International Group Inc.
E-mail to a friend

All About John McCain • Barack Obama • U.S. National Economy