(CNN) -- Sen. Barack Obama has widened his lead over Sen. John McCain, according to CNN's latest "poll of polls."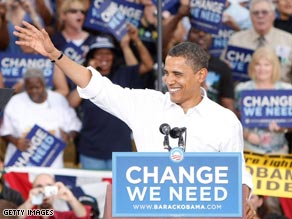 Sen. Barack Obama leads Sen. John McCain by 3 percentage points, according to CNN's "poll of polls."
The senator from Illinois is ahead of McCain in national polls by 3 percentage points, 47 percent to 44 percent. Obama was up by 2 points in the poll of polls released earlier Thursday.
McCain led in national polls last week, but by the weekend, the candidates were tied. Obama recaptured the lead for the first time in 10 days Wednesday.
The latest poll of polls consists of four surveys: CBS/The New York Times (September 12-16), Gallup (September 15-17), Diageo/Hotline (September 14-16) and American Research Group (September 13-15). It does not have a sampling error.
The economic crisis has given Obama and his running mate, Sen. Joe Biden, the opportunity to go on the offensive. Most Americans see Obama as more capable than McCain when it comes to the economy, polls indicate.
The two campaigns have traded shots all week, most recently over the government takeover of insurance giant American International Group Inc.
At a campaign event Thursday in Cedar Rapids, Iowa, McCain said he didn't want the government to have to take over the company but called the action necessary. iReport.com: Share your stories from the campaign trail
"When AIG was bailed out, I didn't like it, but I understood it needed to be done to protect hard-working Americans with insurance policies and annuities," he said. "Sen. Obama didn't take a position. On the biggest issue of the day, he didn't know what to think. He may not realize it, but you don't get to vote 'present' as president of the United States."
The senator from Arizona also accused Obama of seeing the economic crisis as a "political opportunity."
Obama's campaign responded by accusing McCain of flip-flopping on the issue because he said he opposed the bailout this week.
"Barack Obama does not second-guess the Fed's decision to take unprecedented action to prevent the failure of one of the largest insurance companies in the world from creating an even larger crisis, and he believes it must protect families who count on insurance," campaign spokesman Bill Burton said.

Watch how Obama has been going after McCain »
Biden continued to slam McCain for his economic plan and lack of support for financial and health care regulation, calling the Republican's answers for the struggling economy "the ultimate 'Bridge to Nowhere.' "
"He is totally out of touch with the problems of average people," Biden said in Canton, Ohio.
"If you look at John McCain's answers for the economy, and we're in such desperate shape," Biden continued, "[they're] the ultimate Bridge to Nowhere. It's nowhere. It takes you nowhere."
Following a week of playing defense, McCain toughened his tone at his Iowa event Thursday.

Watch McCain campaign in Iowa »
"Sen. Obama has never made the kind of tough reform we need today. His idea of reform is what his party leaders in Congress order him to do," he said. "I know how to make the change that Sen. Obama and this Congress is afraid of.
"My opponent sees an economic crisis as a political opportunity instead of a time to lead. Sen. Obama isn't change; he's part of the problem with Washington."

Watch McCain get tough on Obama »
Democrats pounced on McCain's comments that if he were president, he would fire Securities and Exchange Chairman Christopher Cox.
Speaking after a bipartisan meeting Thursday evening with congressional and financial leaders about the financial meltdown, Cox said, "Right now with so much at stake for our country there's no time political slamming. This is the time and the opportunity for leadership."

Senate Majority Leader Harry Reid, D-Nevada, said that although he was not going to vouch for Cox, "This is very typical McCain-style politics. Go after the first person you can to divert attention from your failures."
During Alaska Gov. Sarah Palin's remarks in Iowa, she lashed out at Biden, who earlier Thursday tied paying taxes to patriotism.
In an interview with ABC News, Biden was asked whether people making more than $250,000 would pay more in taxes under Obama's economic plan.
"You got it. It's time to be patriotic," he said. "Time to jump in. Time to be part of the deal. Time to help get America out of the rut."
Palin shot back, "To them, raising taxes -- and Joe Biden said it again today -- raising taxes is about patriotism. To the rest of America, that's not patriotism. Raising taxes is about killing jobs and hurting small businesses and making things worse."

Watch Palin speak out against her opponents »
McCain and Palin were drowned out by anti-war protesters for a few moments during the Iowa event.
Palin kept speaking throughout the disruption, but her remarks were nearly unintelligible to much of the audience inside the airplane hangar where the rally was held.
About five minutes into Palin's speech, four female students from the University of Iowa Feminist Majority and the University of Iowa Anti-War Alliance held up a cloth banner and began a loud anti-war chant in the middle of the crowd.
Other members of the audience shouted them down with chants of "USA! USA!" and "Sarah! Sarah!" It was several minutes before the women were escorted from the venue.
E-mail to a friend

CNN's Peter Hamby contributed to this report.
All About Republican Party • Democratic Party