From Ted Barrett
CNN Congressional Producer
WASHINGTON (CNN) -- Democrat-turned-independent Sen. Joe Lieberman is once again annoying Senate Democrats, just two weeks after he angered them with his speech at the Republican National Convention.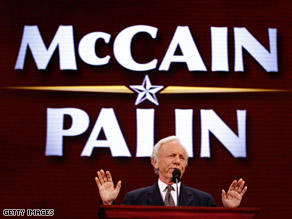 Sen. Joe Lieberman's speech to the Republican National Convention angered some Democrats.
But with their party's razor-thin majority in the Senate, and because Lieberman caucuses with the Democrats, they are unlikely to do much to punish the senator from Connecticut.
Lieberman's latest provocation is a resolution declaring the recently completed troop surge in Iraq a "strategic success."
Lieberman, the Democrat's 2000 vice presidential nominee, is pushing hard for a vote, but it's not a debate the Democrats really want to have.
Most Senate Democrats -- including the presidential nominee Sen. Barack Obama -- opposed President Bush's decision in January 2007 to send an additional 30,000 troops to Iraq. Sen. John McCain, the Republican's presidential nominee, backed what Bush called the "surge."
Lieberman, who is backing McCain in large part because of his support for the Iraq War, is happy to highlight the differences between the two candidates.
Lieberman spokesman Marshall Wittman, when asked why Lieberman introduced the resolution despite his strained relations with his Democratic colleagues, said: "We would hope that Democrats and Republicans could stop fighting for a minute and send a bipartisan message of thanks to our courageous troops and their brilliant commander for a job well done."
Don't Miss
After the last of the troops in the surge left Iraq in August, Bush declared that the strategy had reduced violence in Iraq, saying, "The progress in Iraq has allowed us to continue on our policy of return on success."
The president also suggested that additional troop reductions would be possible.
"The critics of the surge were wrong," Lieberman said last week.
Democrats, however, say multiple factors in addition to the surge have led to less violence in Iraq -- such as the formation of Sunni Awakening Councils opposed to al Qaeda; Iraqi Shiite cleric Muqtada al-Sadr's call to his militias to obey a cease-fire, and the rising competency of the Iraqi security forces. The Democratic leadership also is loath to bring anything to the Senate floor that could help McCain.
Democratic leaders had been working on an alternative to Lieberman's non-binding resolution in hopes of giving rank-and-file members something to vote for without contradicting Obama. They would not allow Lieberman's resolution to come to the floor because it was not related to a defense bill being debated.
Lieberman 's speech at the Republican National Convention in St. Paul, Minnesota, is a sore point with his Democratic colleagues.

Watch Lieberman call McCain-Palin the 'real' change ticket »
In his speech, Lieberman not only praised McCain but also attacked Obama, saying, "Sen. Barack Obama is a gifted and eloquent young man who I think can do great things for our country in the years ahead, but, my friends, eloquence is no substitute for a record, not in these tough times for America."
After his speech Obama adviser Robert Gibbs said, "Joe Lieberman ought to be ashamed of himself for some of the things he said tonight, not as a Democrat but as an American."

Watch Gibbs blast Lieberman »
Democrats -- including Senate Majority Leader Harry Reid -- also thought Lieberman had gone over the line when he said Obama had not reached across the aisle to work with Republicans.
The animosity between Lieberman and members of the Democratic Party over the Iraq War is not new.
In 2006, bloggers and others angered by Lieberman's support for the Iraq War helped Ned Lamont defeat Lieberman in the Connecticut Democratic primary. Lieberman, however, would later run as an "independent Democrat" and win re-election.
One top Senate Democratic aide suggested that Democrats could punish Lieberman for his speech to the Republican convention by stripping him of the chairmanship of the Senate Homeland Security and Government Affairs Committee.
It might not be in Democrats' best interest to punish Lieberman at this point, however. After returning to the Senate, Lieberman continued to caucus with the Democrats, which allows that party to maintain its 51-49 hold on the chamber. If Lieberman decides to caucus with the Republicans, power would have to be split between the two parties.
But the Democrats could take revenge on Lieberman after the elections. They are likely to pick up seats and might not need Lieberman's vote to stay in the majority.
"The Democratic caucus will reassess the situation with Sen. Lieberman after the election," Jim Manley, a spokesman for Reid, said earlier this month.
But one Democratic leadership aide said this week that party leaders were not getting "heartburn" over the matter, despite Lieberman's provocative actions. The Democratic leadership has accepted that the former Democrat opposes them on the war and in the race for the White House, the aide said.
E-mail to a friend

CNN's Scott J. Anderson contributed to this report.
All About Joseph Lieberman • Iraq War