GRAND RAPIDS, Michigan (CNN) -- Republican vice presidential candidate Sarah Palin took questions with her running mate Wednesday night, offering at one point to play "stump the candidate" with a mostly friendly Michigan crowd.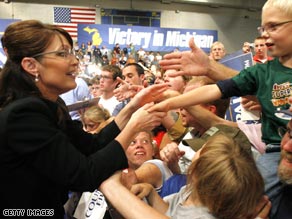 Gov. Sarah Palin greets supporters at a town-hall meeting in Michigan Wednesday night.
Asked for "specific skills" she could cite to rebut critics who question her grasp of international affairs, she replied, "I am prepared."
"I have that confidence. I have that readiness," Palin said. "And if you want specifics with specific policies or countries, you can go ahead and ask me. You can play 'stump the candidate' if you want to. But we are ready to serve."
GOP presidential nominee John McCain stepped in, pointing out that as governor of a state that is oil and gas plentiful, Palin was familiar with energy. She knows it to be "one of our great national security challenges," he said.
He also cited her nearly two years as commander of Alaska's National Guard. "I believe she is absolutely, totally qualified to address every challenge as the next vice president of the United States," McCain said.
The Alaska governor has largely avoided national news outlets since McCain named her his running mate August 29. Mostly unknown outside her home state, she has sat for interviews with ABC, People magazine and Fox News and had not taken questions at a campaign appearance before Wednesday.
"I think because I'm a Washington outsider, that opponents are going to be looking for a whole lot of things that they can criticize, and they can kind of beat the candidate here who chose me as his partner, to try to tear down the ticket," she said Wednesday night.
Palin also took questions about her family and women's rights during the hourlong forum. Asked at one point how she would respond to people who say she can't be both a mother of five and vice president, she said, "Well, let's prove them wrong."
Speaking after the federal government announced plans to rescue ailing insurance giant AIG and after Wall Street took its second nosedive in a week, McCain and Palin both called for reforming the financial markets "in Wall Street and Washington," as McCain put it.
Don't Miss
"We're going to reform how Wall Street does business and put an end to the greed that has driven our markets into chaos," McCain said. "We'll put an end to multimillion-dollar payouts to CEOs who have broken the public trust. We'll put an end to running Wall Street like a casino. We'll make businesses work for the benefit of their shareholders and employees, and we'll make sure your savings -- IRA, 401(k) and pension accounts -- are protected."
After a week of being on the defensive, the economic crisis has given Democratic candidate Sen. Barack Obama an opportunity to go on offense. Most Americans see Obama as better equipped to handle the economy, polls show.
Earlier Wednesday, Democratic vice presidential candidate Sen. Joe Biden blasted McCain on the subject. Biden drew parallels between McCain's statements about the economy and the GOP candidate's health care plan, saying McCain favors deregulation that wouldn't allow states to protect residents from insurance companies.
"So John, you got back on the same horse, you continue to push a plan that's designed to deregulate the health insurance industry," said Biden, asking people in the crowd to raise their hands if they trust insurance companies to take care of their needs.
"I got one person [who] raised their hand. I got also a bridge I got to sell you and guess what? It's in Alaska, and it goes to nowhere."
The senator from Delaware told supporters they have a choice between those who allow corporations and the wealthy to go "unfettered" and those who want "common sense rules" to protect transparency.
Biden said McCain is more "out of touch" on the current financial turmoil than any other issue.

Watch how the economy is dominating the campaign trail »
The McCain campaign was quick to respond to what it called "Biden's economic distortions."
"If Barack Obama's running mate wants to criticize distortions and misrepresentation, he should aim his accusations at Obama's tax talk versus his tax record," said Ben Porritt, a McCain-Palin spokesman. "Ohio voters prefer John McCain's maverick record of reforming government and fighting for change."
Biden on Tuesday said an Obama-Biden administration would "increase regulatory oversight of the very people John [McCain] has refused to regulate."
Until recently, McCain consistently described himself as an opponent of most government regulation. In 1995, he proposed an across-the-board moratorium on all federal regulations, but that measure failed in Congress.
In a March interview with The Wall Street Journal, he said, "I'm always for less regulation. But I am aware of the view that there is a need for government oversight."
"As far as a need for additional regulations are concerned, I think that depends on the legislative agenda and what the Congress does to some degree, but I am fundamentally a deregulator," he said.
On Tuesday morning, McCain said the U.S. economy is "fundamentally sound." McCain later in the day sought to clarify the remark, saying that it was the American worker who was "fundamentally sound."
Obama continued to criticize the remark Wednesday at an event in Elko, Nevada, "His campaign must have realized that probably wasn't a smart thing to say on the day of a financial meltdown, so they sent him back out a few hours later to clean up his remarks."
In an interview with Fox's Sean Hannity, Palin said Wednesday that Obama launched an "unfair attack on the verbiage that Sen. McCain chose."
"He means our workforce. He means the ingenuity of the American people. Of course that is strong," she said.
Obama and McCain went on the airwaves Wednesday with new economic messages.

Watch what the candidates say about the economic crisis »
The two candidates have been pushing their economic plans all week as voters deal with the failures of major investment banks on Wall Street and fears of a recession.
"This isn't just a string of bad luck. The truth is that while you've been living up to your responsibilities, Washington has not. That's why we need change. Real change," Obama says in the ad, which begins airing Wednesday nationally and in battleground states.
In McCain's new ad, he praises American workers as "the best in the world" and says, "Your economic security has been put at risk by the greed of Wall Street."
"My opponent's only solutions are talk and taxes. I'll reform Wall Street and fix Washington. I've taken on tougher guys than this before," McCain says.
Also on Wednesday, for the first time in 10 days, Obama regained the lead in CNN's poll of polls.
The latest poll of polls shows Obama with an edge over McCain by 1 percentage point, 46 percent to 45 percent.
The poll of polls consists of four surveys: IPSOS-McClatchy (September 11-15), Gallup (September 14-16), Diageo/Hotline (September 14-16) and American Research Group (September 13-15).
The poll of polls does not have a sampling error.
E-mail to a friend

CNN's Alexander Marquardt contributed to this report.
All About Barack Obama • John McCain • National Economy