WASHINGTON (CNN) -- A former State Department contract employee will plead guilty to a charge related to the unauthorized access of U.S. passport files, his attorney said Tuesday.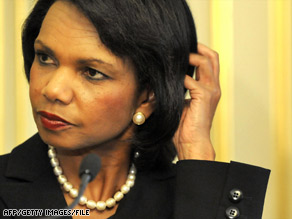 Condoleezza Rice apologized to three presidential hopefuls after their passport files were breached in March.
Lawrence C. Yontz worked as a contract employee for the passport records system.
Attorney David Laufman said in a telephone interview that Yontz is pleading guilty to "unauthorized use of a computer." His client will cooperate with the government in the case, Laufman said.
Yontz committed the alleged infractions between February 2005 and March 2008, according to a Justice Department filing in the case.
In March, the State Department admitted that the files of three presidential candidates -- Sens. Hillary Clinton, John McCain and Barack Obama -- had been breached early in the 2008 campaign. Secretary of State Condoleezza Rice called them to apologize.
The State Department said several contract employees and at least one department employee had improperly viewed the files.
In July, State Department Inspector General Harold Geisel blasted the security of U.S. passport files, saying unauthorized access goes undetected and unpunished.
The comments came after Geisel conducted an investigation of the breaches.
The inspector general revealed that a test showed the files of famous movie, television and media personalities, musicians and athletes had been accessed repeatedly, though it was unclear whether the access was authorized. The report suggested an overhaul in how the department protects information and follows up on breaches.
Yontz is believed to be the only person charged so far. A hearing has been set for Monday, Laufman said.
The Washington Post, which first reported Yontz's planned guilty plea, said sentencing guidelines recommend up to six months' incarceration for the misdemeanor offense.
E-mail to a friend

CNN's Charley Keyes contributed to this report.
All About U.S. Department of State