(CNN) -- Carly Fiorina, the former Hewlett-Packard CEO turned top John McCain aide, said she doesn't think Sarah Palin is qualified to run a major corporation. For that matter, Fiorina said, McCain, Obama and Biden aren't capable of that kind of job either.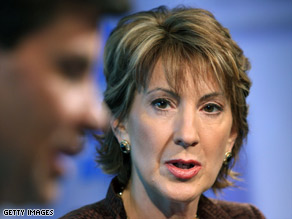 Ex-Hewlett-Packard CEO and McCain adviser Carly Fiorina said Sarah Palin could not run a major company.
The Republican presidential candidate has been trying to portray himself as someone who can fix the country's economic woes. But that is a far different task than running a Fortune 500 corporation, Fiorina told MSNBC Tuesday.
Democratic candidate Barack Obama's camp immediately circulated copies of her words -- which didn't exactly paint their candidate in a soft light, either.
"Well, I don't think John McCain could run a major corporation, I don't think Barack Obama could run a major corporation, I don't think Joe Biden could run a major corporation," Fiorina said.
"It is a fallacy to suggest that the country is like a company. So, of course, to run a business, you have to have a lifetime of experience in business, but that's not what Sarah Palin, John McCain, Joe Biden or Barack Obama are doing."
Fiorina was president of Hewlett-Packard until her high-profile ousting in 2006 after the company's unfavorable performance.
"If John McCain's top economic adviser doesn't think he can run a corporation, how on Earth can he run the largest economy in the world in the midst of a financial crisis?" said Obama spokesman Tommy Vietor. "Apparently, even the people who run his campaign agree that the economy is an issue John McCain doesn't understand as well as he should."

Watch Fiorina says Palin isn't ready for big business »
Fiorina made similar comments earlier Thursday to a St. Louis, Missouri, radio station. She was asked if she thinks Palin is qualified to run a company like Hewlett-Packard.
"No, I don't," Fiorina answered. "But that's not what she's running for. Running a corporation is a different set of things."
E-mail to a friend

All About U.S. Presidential Election • Carly Fiorina