By Jonathan Mann
(CNN) -- America got a whole new look at Sarah Palin this week.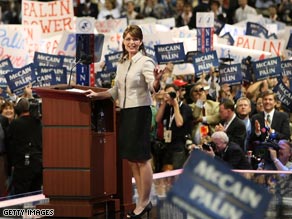 Sarah Palin is the Republican Party's new star.
The Republican vice-presidential candidate had her trademark glasses and hair, but her mini-skirt was way too short and so was she: just 30 centimeters tall.
After dominating the news-stands and the TV networks, Palin has now been immortalized as an action-figure doll, a small plastic superhero sold on the internet. American pop culture affords no higher accolade and no one has ever achieved it faster.
The Alaska governor was an obscure figure in American politics just two weeks ago. Then Republican presidential candidate John McCain made her his running mate. What he got was an endearingly sharp-tongued working mother, known for her devotion to honest government, god and guns.
The impact was immediate among Republicans but it wasn't clear whether it would resonate beyond them. It has.
Hillary Clinton worked for years to earn the affection of her supporters. Palin, by comparison, eloped overnight on what's turned out to be a stunningly passionate honeymoon with the American heartland.
For the first time since the race began more than a year and a half ago, the Republicans are leading the Democrats in the polls. Not bad for a neophyte.
McCain's advisors abandoned plans to send her off for some solo campaigning, because they see his crowds have gotten bigger and more boisterous, and they're coming to see her.
Everything about his campaign suddenly seems easier. Barack Obama may be finding the reverse.
Obama should know men have to be careful running against women. He is still trying to heal the wound of defeating Clinton in the Democratic primaries, a result many Clinton voters considered sexist and unfair.
He tried one approach to Palin that was surprisingly tone-deaf; an old American expression used to belittle a novelty when it isn't all that new. "You can put lipstick on a pig," he said. "It's still a pig." The remark did not go over well.
Obama is also at a particular disadvantage. Palin presents herself as familiar next-door neighbor to every ordinary American. Obama is an African-American with an exotic name who works overtime to remind people he's a real American too.
It's all happened so fast that Obama and his running-mate Joe Biden seem to be improvising; a big change from the long months during which the Democrats seemed so in control of the contest.
The challenge they face now is to find a way to fight the very kind of excitement they used to own.
E-mail to a friend

All About Democratic Party • Barack Obama • John McCain • Republican Party