WASHINGTON (CNN) -- Sens. John McCain and Barack Obama showed Thursday night that they have more common ground than differences when it comes to making national service a priority in their presidential administrations.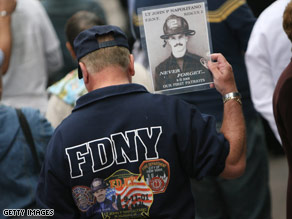 The presidential canidates put aside partisan politics as the nation remembers the terrorist attacks.
The candidates took the stage separately in a forum sponsored by TIME at Columbia University in New York.
A coin toss determined who took questions first from moderators TIME Managing Editor Rick Stengel and PBS's Judy Woodruff.
Asked why it seems the terror attacks of September 11, 2001, are "fading" in the minds of many Americans, McCain said:
"We needed at that time [September 11, 2001] to take advantage of the unity in the United States of America."
McCain criticized the Bush administration for not taking advantage of that sense of unity and instead imploring the American public to live their lives as usual and "go shopping."
"I would have called them to serve," said McCain.

The GOP candidate said he suspects people feel uninspired by leaders in Washington and that Americans want "change" in federal government.
"They understand the challenges that we have in this world. They see the Russian invasion of the little country called Georgia. They see the problems in Afghanistan growing larger. They see a whole lot of things happening in the world that's going to require us to serve, and that opportunity has to be provided to them."

Watch McCain talk about service »
Don't Miss
McCain praised the Peace Corps and AmeriCorps, saying they and similar organizations don't receive "sufficient recognition" from Washington. But McCain was careful to say government should limit its involvement. Asked about compensation for service McCain said:
"I'd be glad to reward [volunteers] them as much as possible. But you want to be careful that the reason is not the reward of financial or other reasons, but the reward is the satisfaction of serving a cause greater than yourself. ... Finding new ways to serve. That's what this next few years should be all about."
McCain also fielded a question about his running mate Gov. Sarah Palin's dismissive comments about Sen. Barack Obama's community service in Illinois.
"Look, Gov. Palin was responding to the criticism of her inexperience and her job as a mayor in a small town. That's what she was responding to. Of course I respect community organizers. Of course I respect people who serve their community. And Sen. Obama's record there is outstanding."
McCain also said that politics is "tough business," and that Obama set the tone of the whole campaign when he refused to take part in town hall meetings with McCain across America.
Obama said his views don't necessarily differ from McCain's on national service.
He said creating opportunities for national service would be a priority for his administration as well.
"Part of what makes America work is the fact that we believe in individual responsibility and self-reliance, but we also believe in mutual responsibility, in neighborliness, in a sense that we are committed to something larger than ourselves."
Obama cited a plan to provide college tuition aid in return for student community service.
"One of my central platforms in this campaign is we're going to provide a $4,000 tuition credit every student, every year, but in exchange for giving something back. And so, young people of modest means, who are interested in going to college, this gives them an opportunity to serve and at the same time, pay for their college education. I think there are a lot of creative ways where we can provide opportunities than exist right now."
Obama also said he wants to attract more young people into civil service careers.
"The fact is that we have to have government. When a hurricane strikes, as it did with Katrina, we have to have a FEMA that works, which by the way, means that we should be encouraging young people, the best and the brightest, to get involved as civil servants, to pursue careers of public service so we've got people who are trained in federal emergency management who are able to take on the job."

Watch Obama talk about service »
"Now, that does not crowd out the Red Cross. That doesn't crowd out the thousands of church groups that went down there. What it means is that each area has a role to play."
The forum is part of a two-day summit meant to promote national service. Nearly 500 leaders from business, foundations, universities and politics are meeting to "celebrate the power and potential of citizen service" and lay out a plan to address "America's greatest social challenges through expanded opportunities for volunteer and national service," according to the organizers' Web site.
Each presidential candidate has served his nation in different ways. McCain was a Navy officer for over two decades and often encourages Americans to serve a "cause greater than oneself."
Obama served as a community organizer on the South Side of Chicago after he graduated from college. In a speech in December, the Illinois Democrat said he would ask Americans to serve if he becomes president. "This will be the cause of my presidency," he said.
Today's joint appearance came amid recent sniping between the campaigns.
McCain's campaign recently attacked Obama for "lipstick" remarks made during a campaign stop in Virginia on Tuesday.
"John McCain says he's about change too, and so I guess his whole angle is, 'Watch out George Bush -- except for economic policy, health care policy, tax policy, education policy, foreign policy and Karl Rove-style politics -- we're really going to shake things up in Washington,' " he said.
"That's not change. That's just calling ... the same thing something different. You know you can put lipstick on a pig, but it's still a pig. You know you can wrap an old fish in a piece of paper called change, it's still going to stink after eight years. We've had enough of the same old thing."

Watch how tensions are rising on the trail »
The crowd erupted in applause when Obama delivered the line. McCain's campaign said Obama's remarks were offensive and a slap at vice presidential candidate Sarah Palin, despite the fact that the Arizona senator himself used the phrase last year to describe a policy proposal of Hillary Clinton's.
Obama shot back Wednesday and accused the McCain campaign of engaging in "lies" and "swift boat politics."
"I don't care what they say about me. But I love this country too much to let them take over another election with lies and phony outrage and swift boat politics," he said in Norfolk, Virginia. "Enough is enough."

Watch Obama deliver his harsh words »
The phrase "swift boat" comes from the 2004 presidential election, when the group "Swift Boat Veterans for Truth" launched an attack ad campaign against Democratic candidate John Kerry that was said by some to be false.
But the two presidential candidates agreed to put aside partisan politics on Thursday. They appeared together in New York to lay a wreath at ground zero, where the World Trade Center towers collapsed after two airliners hijacked by al Qaeda operatives plowed into them on September 11, 2001.
The two met with families of victims as well as state and local officials.
Earlier in the day, McCain attended a ceremony in Shanksville, Pennsylvania, to remember those who lost their lives when United Airlines Flight 93 crashed in a field there on September 11, 2001. Many believe that the hijackers intended to crash Flight 93 into the U.S. Capitol in Washington.
"Hundreds, if not thousands, of people at work in that building, when that fateful moment occurred, could have been destroyed along with a beautiful symbol of our freedom," McCain said. "They -- and possibly I -- owe our lives to the passengers who summoned the courage and love necessary to deprive our depraved and hateful enemies their terrible triumph.
"I've had the great honor and privilege to witness great courage and sacrifice for America's sake," he said.
The Obama campaign released a statement earlier Thursday for its candidate in which he said, "We will never forget those who died.
"On 9/11, Americans across our great country came together to stand with the families of the victims, to donate blood, to give to charity, and to say a prayer for our country," Obama said. "Let us renew that spirit of service and that sense of common purpose."
Meanwhile, a CNN poll out Thursday suggests that voters view McCain as the better presidential candidate to handle terrorism but do not consider terrorism their primary concern in voting.
Nearly two-thirds of those surveyed, 62 percent, believe that the Republican presidential nominee would be the better candidate to handle the issue of terrorism, compared with 34 percent who believe that his Democratic rival, Obama, would be better on the issue.
The poll's margin of error is plus-or-minus 3 percentage points.
Opinion Research Corp. conducted telephone interviews with 1,022 adults from September 5-7 for the poll.
E-mail to a friend

Time's Michael Duffy contributed to this report.
All About Barack Obama • John McCain • Terrorism • September 11 Attacks