(CNN) -- Republican nominee Sen. John McCain, appearing Friday on ABC's "The View," was aggressively pressed on Alaska Gov. Sarah Palin's qualifications to be vice president as well as his new campaign ads that several independent fact-check groups have called misleading.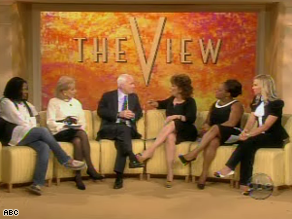 Sen. John McCain faces some tough questions Friday on ABC's "The View."
Co-host Barbara Walters immediately questioned McCain about a remark he'd made that Palin might be the most "marvelous running mate" ever, asking, "That's not a little strong?"
"We politicians are never given to exaggerations or hyperbole, as you know," McCain joked, before praising Palin as the most "popular governor in America" and one who has united a "spark in America."
Walters went on to press Palin's reformist credentials, noting McCain has served in Washington for more than two decades and asking repeatedly, "Who's she going to reform, you?"
McCain answered by saying Democrats have controlled Congress for two years, but then Walters quickly interrupted: "But tell me who she is going to reform -- we aren't talking about the economy, we're not talking about housing; she was chosen to reform, who is she going to reform?"
Appearing somewhat frustrated, McCain said, "The Democrat Party, the Republican Party, even an independent. She'll reform all of Washington."
Walters, seeming somewhat exasperated, asked, "How? What will she do? What is she going to reform specifically, senator?"
Don't Miss
McCain said Palin had a strong record on vetoing earmark spending.
"The fact is she was a reform governor, she took on an incumbent governor of her own party and defeated him. She sold the airplane and fired the chef," McCain said, referring to Palin's efforts to put her predecessor's state jet up for auction on eBay and her dismissal of the governor's personal chef.
"She sold the airplane at a loss," Walters interrupted.
(The jet failed to draw sufficient bids on eBay and later was sold at a loss through an ordinary aircraft brokerage.)
McCain later was pressed on the increasingly derisive tone of the campaign and his new television commercial that carries the widely discredited claim Obama supported comprehensive sex education for kindergartners as an Illinois state senator.
McCain defended the ad's claims as well as those of a Web ad that said Obama's "lipstick on a pig" comments were directed at Palin. He added that the tone of the campaign might have been more amicable if Obama had agreed to his proposals for a series of town-hall meetings.
"If we had done what I asked Sen. Obama to do, I don't think you'd see the same tenor of this campaign," he said. "Why don't you ask Obama the next time he's on this show why won't he be in town meetings with me?"
Walters responded, "You bring us Sarah Palin, and we'll ask Obama."
McCain also appeared Friday on "The Rachael Ray Show."
Meanwhile, the McCain and Obama camps accused each other of engaging in lies, unfair attacks and gutter politics in a series of television ads and memos Friday.
McCain's campaign released a television ad, titled "disrespectful," that accuses McCain's Democratic rival of launching desperate attacks and smears against Palin.
In the McCain ad, the announcer says that the Obama camp had "lashed out at Sarah Palin" and dismissed Palin as "good looking" as the Democratic nominee's face appears on the screen. The announcer also says the Democrats had said Palin was doing "what she was told" and had "desperately" called her a liar.
"How disrespectful," the announcer says. "And how Gov. Sarah Palin proves them wrong, every day."
Obama never made any of the statements the McCain camp released to support the ad, and the comment that Palin was "good looking" was made by the Democratic vice presidential nominee, Sen. Joe Biden, in a self-deprecating joke when he was asked what the "obvious" differences were between the two vice presidential nominees.

Watch the McCain ad »
Biden repeatedly has said on the campaign trail that he respected Palin and that he thought she was qualified for the vice presidency.
And FactCheck.org pointed out that the quote from an Obama adviser that Palin was doing "what she was told" was taken out of context. The quote is taken from the response of Obama's chief strategist, David Axelrod, in which he said Palin had misrepresented Obama's legislative record. "Maybe that's what she was told" about his voting record, Axelrod said.
A day after the two campaigns agreed to a truce on the seventh anniversary of the 9/11 terrorist attacks, the Obama camp launched two television ads. In one, the campaign paints McCain as being out of touch by showing pictures of him when he first entered the Senate in 1982 as disco music plays. The ad also highlights McCain's own admissions that he lacked computer skills and does not use e-mail.

Watch the Obama ad attacking McCain »
"After one president that is out of touch, we can't afford more of the same," the announcer of the Obama ad concludes, a reference to President Bush.
In the second Obama ad, the candidate himself appears. "We've heard a lot of talk about change this year. The question is, change to what?" Obama asks.
"To me, change is a government that doesn't let banks and oil companies rip off the American people," the Illinois Democrat says. "Change is when we finally fix health care instead of just talking about it. Change is giving tax breaks to middle class families instead of companies that send jobs overseas. Change is a president who brings people together."
The ads come as Obama's campaign manager, David Plouffe, issued a tough memo to reporters that accused McCain and his campaign of turning to "smears, lies and cynical attempts to distract from the issues."
While their campaigns sparred, Obama was to campaign in New Hampshire, first stopping in Dover to discuss tax relief then moving on to Concord.
Biden had planned to campaign Friday in Texas but canceled events after Hurricane Ike began to threaten the Galveston and Houston areas. His Republican counterpart, Palin, was in Alaska on Friday and was to appear for a second time with ABC's Charlie Gibson, part of her first one-on-one interview with the national media.

Watch analysts dissect Palin's interview »
E-mail to a friend

CNN's Rebecca Sinderbrand and Scott J. Anderson contributed to this report.
All About Barack Obama • John McCain • Sarah Palin • Joseph Biden