From Drew Griffin
CNN
WASILLA, Alaska (CNN) -- Gov. Sarah Palin's father never imagined that his "little girl" would run for the vice presidency, but he knows his daughter's determination made her a success when others, including himself, expected her to fail.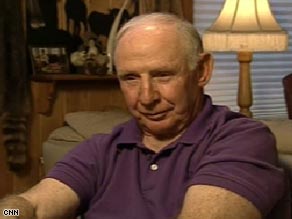 Chuck Heath says it hasn't "settled in" that his daughter, Sarah Palin, is running for vice president.
"I look back on Sarah's perseverance, and whatever she wanted to do, she put her nose to the grindstone, especially in sports," Chuck Heath told CNN in an extensive interview in his Wasilla, Alaska, home. "If she didn't have a certain ability, she worked and worked and worked until she obtained that ability or skill."
Sen. John McCain, the Republican presidential nominee, surprised the political world when he picked Palin, a first-term governor from Alaska, to be his running mate nearly two weeks ago. The interview with Palin's father will be included in "Sarah Palin Revealed," a documentary that will air on CNN at 9 p.m. ET Saturday and Sunday.
Heath, a retired science teacher and coach who now works with the federal Wildlife Services Program, said his daughter started exhibiting her stubborn streak at an early age.

Watch Heath say he was stunned when Palin was picked »
"Sarah, she was something else," he said. "I wasn't mean to her. I was stern with her, but I could seldom bend her if she made up her mind on something."
And by the third or fourth grade, Palin, who is the third of four children, was determined to read the newspaper from front to back, Heath said.
"When I moved here, she read the newspaper more than I did. I'd grab the sports; she'd grab the front page -- I remember that distinctly," he said. "And she would read all of it, all the national part and the local part. And I'd look at the headlines; she'd read it all through."
Heath, 70, who coached his daughter in cross-country running, said Palin turned herself into a top high school athlete by outworking and outhustling everyone else. In high school, Palin earned the nickname "Sarah Barracuda" for her play on the championship-winning girls basketball team.

Watch how Palin's decision to elope showed her tenacity »
"I had a bunch of good girls, a bunch of good runners, and she was just mediocre in practice," he said. "And the first meet, she smoked everyone, and that opened my eyes, and the competitiveness in her really came out that day."
It wasn't until after high school that Palin focused on politics, Heath said. She surprised her father when she decided to run for the Wasilla, Alaska, city council in 1992.
"I said 'why?' and she just said 'I feel like I can help the community,' " he said. "And when she ran for mayor, that really got my attention. I felt she was out in left field."

Watch Palin's friends tell how Palin juggled politics and motherhood »
Heath said he did not think his daughter could unseat the incumbent mayor of Wasilla when she ran in 1996.
"It wasn't her gender; it was she was running against a guy that had been in there for three terms... and I said to myself, she'll never beat him, and, bingo, she did," Heath said.
The fact that his daughter was governor of Alaska was "finally starting to sink in" when Palin was tapped to be McCain's running mate, Heath said. He admitted he was in a "dreamland" when Palin accepted the Republican vice presidential nomination in St. Paul, Minnesota, last week.
"I couldn't believe this was happening to my little girl -- completely blindsided," Heath said.
But, as she steps onto the national stage, he has no doubt that Palin will show the same drive and determination that have made her a winner in the past.
"The critics who are on her, you just wait ... she's never let us down, doing things when she strives to do it," Heath said.
That doesn't mean that Heath isn't worried about his daughter.
"It makes me nervous. I mean, she's still my little girl," he said. "They are getting mean -- very mean."
E-mail to a friend

CNN's Kathleen Johnston, Emily Probst, Jen Christensen and Scott J. Anderson contributed to this report.
All About Sarah Palin • John McCain • Alaska