(CNN) -- The manager of a state investigation into the firing of Alaska's Public Safety commissioner won't be removed for suggesting the investigation could yield an "October surprise" for Gov. Sarah Palin, a key lawmaker announced Monday.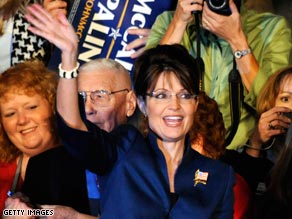 Alaska Gov. Sarah Palin campaigns in Lee's Summit, Missouri, with Sen. John McCain Monday.
State Sen. Kim Elton, the chairman of the bipartisan Legislative Council that commissioned the investigation, said the decisions made by Sen. Hollis French "have been appropriate, bipartisan ... and unchallenged" and that French has called the comments he made last week "regrettable."
"Comments about the investigation can be as incendiary as napalm," Elton, a Democrat, wrote to a Republican lawmaker who sought French's removal last week.
But he added, "I'm sure that all of us can work in a nonpartisan way to accomplish the charge given to the investigator by the Legislative Council."
Alaska's Legislature is looking into allegations that Palin -- now the Republican nominee for vice president -- fired Public Safety Commissioner Walt Monegan when he refused to sack her ex-brother-in-law, a state trooper involved in a custody battle with the governor's sister.
Palin has denied wrongdoing, and her allies have said the investigation has become a "political circus."
E-mail to a friend

All About Sarah Palin • Alaska