From Drew Griffin and Scott Bronstein
CNN Special Investigations Unit
ANCHORAGE, Alaska (CNN) -- The Alaska state trooper at the center of a probe into whether Gov. Sarah Palin abused her power says he has "made mistakes, and I've learned from those mistakes."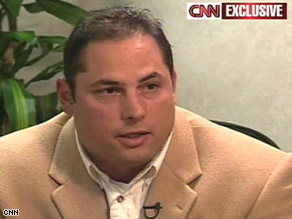 Alaska state trooper Mike Wooten tells CNN he never drank while driving his patrol car.
But in an exclusive interview with CNN, Mike Wooten, Palin's former brother-in-law, also denies some of the biggest allegations against him, including drinking while driving.
"I made mistakes. I fessed up to them. I was punished appropriately, and I'm moving on," said Wooten, 36, who went through a long, messy divorce and custody battle with Palin's sister.
In the past week, Wooten's troubles have suddenly taken on national prominence as Palin stepped into the limelight as Sen. John McCain's running mate.
An investigation is under way into whether Palin used her office to push for Wooten's firing and whether she ultimately fired Public Safety Commissioner Walt Monegan for refusing to sack Wooten.
Palin has denied any wrongdoing, saying her decision to fire Monegan involved budgetary concerns and moving the department in a new direction. She has acknowledged that aides and members of her family repeatedly discussed Wooten with Monegan or members of his department, but she said at no time did she or anyone else acting at her request use her office to press for Wooten's firing.

Watch Wooten talk about what matters to him »
Before becoming governor, Palin wrote to state investigators in 2005, issuing a series of allegations against Wooten.
Don't Miss
In 2006, state investigators found Wooten guilty of "a significant pattern of judgment failures," including using a Taser on his 10-year-old stepson and drinking beer while operating a state trooper vehicle. Wooten was suspended for 10 days as "a last chance to take corrective action."
Speaking Thursday to CNN's Drew Griffin and Kathleen Johnston, Wooten gave his account of the Taser incident but denied ever drinking while driving.
He said that he was a new Taser instructor, and his stepson was asking him about the equipment. "I didn't shoot him with live, you know, actual live cartridge," Wooten said.
Instead, he said, he hooked his stepson up to a training aid "with little clips. And, you know, the Taser was activated for less than a second, which would be less than what you would get if you touched an electric fence. ... It was as safe as I could possibly make it."
He said his stepson was on the living room floor surrounded by pillows, that he "was bragging about it," and that the family laughed about it.
Asked whether it was a dumb decision, Wooten told CNN, "absolutely."
The 2006 report called the incident an example of "extremely poor judgment," and noted that he has been trained in "the risks associated with use of the weapon on a child."
Wooten insists he has been "under a microscope, and everything I did was heavily scrutinized at the time."
The father of three, who was married four times, told CNN, "I'm trying to move on and be the best dad I can to my children. Be the best trooper that I can be. You know, I love my job. I love this state."
He added that McCain's choice of Palin as his running mate was "absolutely wonderful for the state of Alaska."
E-mail to a friend

CNN's Kathleen Johnston contributed to this report.
All About Sarah Palin • Alaska