ANCHORAGE, Alaska (CNN) -- Alaska lawmakers moved up their deadline for finishing an investigation into Gov. Sarah Palin's firing of the state's public safety commissioner on Friday and warned they will issue subpoenas for witnesses next week.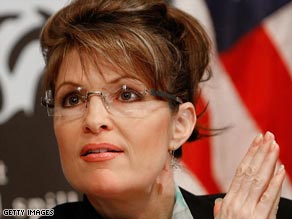 Gov. Sarah Palin has put an aide on leave during an inquiry into the firing of the public safety commissioner.
The report into Public Safety Commissioner Walter Monegan's dismissal had been scheduled for October 31.
But now that Palin is the Republican nominee for vice president, lawmakers want to avoid an "October surprise" that could sway the November presidential election, the investigation's managers said.
"We are satisfied that the report can be finished by no later than October 10, 2008," state Rep. Jay Ramras, the Republican chairman of Alaska's House Judiciary Committee, said in a statement announcing the decision.
Palin is battling allegations she sacked her public safety commissioner in July because he refused to fire Trooper Mike Wooten, her sister's ex-husband.

Watch Wooten tell his side of the story »
Meanwhile, investigators said they plan to issue subpoenas next Friday -- but have agreed not to subpoena Palin.
"She has told the public that she welcomes the investigation, and I have every faith that she means it," Alaska State Rep. Nancy Dahlstrom, a Republican, said in the statement. Dahlstrom said the special counsel, Stephen Branchflower, could meet with Palin on the campaign trail or take her statement over the phone, "whatever is most convenient for her."
Don't Miss
The governor, first elected in 2006, has denied wrongdoing and filed papers Monday in an attempt to get the investigation transferred to the state Personnel Board. Since then, seven witnesses have told the special counsel hired by the Legislature that they would not sit for depositions, the lawmakers said, and Palin's lawyer has called on lawmakers to drop the inquiry.
Those moves spurred the investigation's managers to set a September 12 hearing of the two chambers' Judiciary committees to vote on subpoenas. State Sen. Hollis French, the Democratic Senate Judiciary chairman who is leading the investigation, said a previous vote on subpoenas had been called off because everyone Branchflower contacted had agreed to sit for questioning.
But French came under fire Friday for comments a Republican lawmaker said damaged the "arm's-length, nonpolitical" nature of the investigation. Republican State Rep. John Coghill called for the state Legislative Council, which commissioned the inquiry in July, to replace French as the investigation's manager.
"He made some statements to several media outlets about this being a credibility problem," Coghill said. "He talked about this being an 'October surprise.' All those may be true, but as the manager of this unbiased investigation, I think he stepped out of bounds."
Meg Stapleton, a former Palin aide, said the investigation has turned into a "political circus" since Palin was tapped as McCain's running mate.
"Hollis French is out there every single day talking about how this is so damaging," Stapleton said.
Removing him as head of the investigation is "the only way they can retain any sense of legitimacy," she said.
French's office had no immediate response to Coghill's call for his removal. But critics have begun to accuse Palin of trying to stall the investigation until after the November 4 presidential election.
The decision on subpoenas comes after the head of Alaska's state police union said on Thursday that Palin's aides improperly obtained her former brother-in-law's state police personnel files.
John Cyr, executive director of the Alaska Public Safety Employees Association, said the aides cited information from those records to raise complaints about the officer.
"It's apparent to us that the governor or someone on her staff had direct access to his personnel file, as well as his workers' comp file, and those are protected," Cyr said.
But a spokesman for GOP presidential candidate John McCain's campaign released documents late Thursday indicating Wooten signed a waiver during his divorce that allowed his entire personnel file to be released.
"When you're a real reformer like Sarah Palin, who isn't afraid to take on entrenched political interests, scurrilous attacks and empty allegations come with the territory," campaign spokesman Taylor Griffin said.
In an ethics complaint filed Wednesday, the union names the governor and three aides, one of whom cited Wooten's records in a tape-recorded call to a state police lieutenant in February.
Monegan, the former commissioner, said he believes his refusal to fire Wooten led to his firing. Monegan said no one directly demanded Wooten's dismissal, but the trooper was the subject of "constant" questions or comments "either verbally or in e-mail saying, 'Is this the kind of trooper that should be representing the troopers?' or 'This is not the kind that we want to have as a poster child.' "
"In the center of all of the controversy is Trooper Wooten's continued employment," the former police commissioner said. "My job was to provide passion and support to 900 people -- almost 900 people -- in the Department of Public Safety, and one of them -- which included Trooper Wooten -- was an irritant to her."
Palin said Monegan was sacked because of disagreements over the state budget. His firing is under investigation by the Alaska Legislature, but Palin's attorneys filed papers this week to request Alaska's Personnel Board take over the investigation.
In August, Palin said members of her administration had contacted people in Monegan's department more than 20 times regarding Wooten since she took office in December 2006.
"The individual inquiries taken by themselves are one thing. Many of these inquiries were completely appropriate; however, the serial nature of the contacts understandably could be perceived as some kind of pressure, presumably at my direction," she said.
But in papers requesting the inquiry be transferred to the Personnel Board, Palin's lawyer called Wooten a "rogue trooper" who threatened the governor's family during a bitter divorce and custody battle. Thomas Van Flein, the governor's attorney, said it was appropriate to complain to the head of the department about a trooper the Palins believed posed a threat to their security.
Van Flein had no immediate response to the union complaint.
Palin had been complaining to state police officials about Wooten since before she became governor. In March 2006, Wooten received a five-day suspension for drinking beer in his patrol car, illegally shooting a moose under his wife's hunting permit and using a Taser on his 10-year-old stepson "in a training capacity."
Wooten, in an interview with CNN's Drew Griffin, said he wanted to be "the best father I can be to my children" and "the best trooper I can be to the state."
"You know, I was young and I made mistakes," Wooten said. "And I was punished for those mistakes. I learned my lesson. They're behind me."
Van Flein said Wednesday the Palins were unaware any action had been taken against Wooten until after Monegan's firing.
In the February 29 call by Frank Bailey, Palin's boards and commissions director, to state police Lt. Rodney Dial, Bailey complained there had been "absolutely no action for a year on this issue." During the call, he said there was some "really funny business" about a worker's compensation claim Wooten had filed and suggested he lied about a health condition on his state police job application.
"That's extraordinary for them to reference that," Cyr said. Police application files contain results of background checks and reference letters, "and those are sealed. Even Trooper Wooten doesn't have access to those."
Efforts to contact either Bailey or his attorney on Thursday were unsuccessful.
E-mail to a friend

All About Sarah Palin • Alaska