ST. PAUL, Minnesota (CNN) -- Sex columnist Dan Savage and author of the popular syndicated sex advice column "Savage Love," made his way to St. Paul, Minnesota, to attend the Republican National Convention where he is filming a piece for HBO's "Real Time with Bill Maher."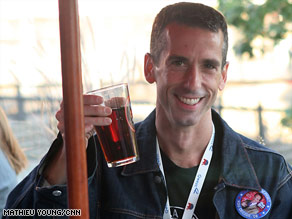 Sex columnist Dan Savage is reporting on the GOP convention for HBO's "Real Time with Bill Maher."
Planted in the CNN Grill, Savage shares his thoughts on John McCain's running mate, Sarah Palin, tells us what a sex columnist is doing at a political convention, and gives us his take on who's sexier, Democrats or Republicans.
Here are five questions for Dan Savage:
CNN: You're here because you're a lifelong Republican?
Savage: No, that's not true, actually. I'm a Democrat, although I am a registered Republican in Washington State, but just to drive the Washington State Republican Party up the wall.
CNN: Why are you here?
Savage: I was here to see if I could find any evidence of George W. Bush at the convention. And I found very little. There was that satellite feed. I bought this button [points to Dick Cheney button on his shirt]. This will be the only time you'll see Dick Cheney at the convention is when you see me walk by with this button ... I wasn't able to purchase it here ... I mean you talk to Republican delegates walking around, a lot of them will admit that George Bush has been a major disappointment and they're happy that he's not here. And one of the reasons that they're happy he's not here is that they don't want America reminded that four years ago and eight years ago, these same delegates ... thought George Bush walked on water.
Don't Miss
CNN: Why would "Real Time with Bill Maher" send a sex columnist to cover the Republican National Convention?
Savage: Because when you're a sex writer in America you have to write about politics because politicians will not stop obsessing about it -- screwing around with people's sex lives. Often when I write about politics in "Savage Love," my sex advice column, people write to me and say, "you're a sex columnist, stick to sex." And I'll say -- I usually respond -- "I'll be able to stick to sex when politicians stick to politics and leave our sex lives alone, and stop politicizing our sex lives." But they do. And it's one of the major differences between the two political parties, our sexual issues. And so my view is very relevant, I feel very at home here.
CNN: Any thoughts on McCain's running mate choice?
Savage: I think Palin has been the clown car of the vice presidential nominee. You never know what's going to pop out of Palin next.
CNN: Who's sexier: Republicans or Democrats?
Savage: Well, there's just something about those Young Republicans. They're very sexy. They're very tense and nervous. I spoke to a lot of them because I've been running around the convention asking teenagers throughout the convention if they're virgins or not. 'Cuz I feel like I have a right to know because we've invested over a billion dollars in abstinence education programs under George Bush.
E-mail to a friend

All About Republican National Convention • John McCain • George W. Bush • Democratic Party • Republican Party