By Kristi Keck
CNN
ST. PAUL, Minnesota (CNN) -- Alaska Gov. Sarah Palin came out swinging Wednesday night, but it's going to take more than just fighting words to win over the independent and undecided voters who hold the election in their hands.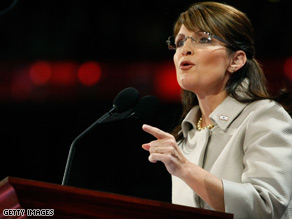 Gov. Sarah Palin's speech Wednesday night fired up Republican delegates.
Palin's speech at the Republican National Convention marked her first major address as the Republican vice presidential candidate.
The Alaska governor tore into Democratic presidential nominee Barack Obama as two-faced, arrogant and unable to lead while she painted Republican candidate John McCain as courageous reformer who is ready to take charge.
Her prime time address was full of humor and sarcasm. Her tone was a hit with delegates watching in St. Paul, Minnesota, but it didn't resonate well with everyone outside of the Republican circle.
"She came across as angry and overconfident," said Kuntal Warwick, an independent voter from King of Prussia, Pennsylvania. Palin had little to say about policy, and her speech was full "of smugness and mockery," Warwick said.
Independents like Warwick, combined with voters who have yet to make up their mind, are the ones who could decide who ends up in the White House.

Watch what iReporters think about the speech »
Don't Miss
"The base of the Democratic and Republican parties -- their votes are predictable," said John Avlon, author of "Independent Nation: How Centrists Can Change American Politics." "It's the swing voters who decide who's going to carry the balance of power, who will ultimately win that election state-by-state and even nationwide."
Avlon didn't have a problem with Palin's tone. He said her humor and confidence will probably appeal to the independents, but it's the lack of substance that will leave that group in search of something more.

Grade the speech »
Independent voters tend to be fiscally conservative and socially liberal, and they usually vote for the more centrist candidates. iReport.com: What do you think of Palin?
Palin's speech touched on her fiscal record, but her far-right stance on social issues, which Avlon says "could be a real wedge with independent voters," were largely unmentioned.

Watch analysts discuss the good, the bad and the ugly »
"I think she has really helped close the enthusiasm gap which existed and really energized them," Avlon said, but "there is a substance gap that still exists, things we don't know about Sarah Palin in terms of what policy she supports."
Palin's zingers got the crowd on its feet. The Republican delegates watching at the convention crowned her the "quintessential American."
Kansas state Sen. Karin Brownlee said Palin "can do a one-two punch better than Muhammad Ali," and Utah state Sen. Mark Madsen said the speech would leave Obama and running mate Joe Biden "quaking in their boots."
Even the Obama campaign gave her kudos for delivering a "tremendous speech," but the campaign said her bare-knuckled approach could come at a cost.
"A lot of people came in not knowing who she was, and I think whenever a political candidate makes a speech that is heavy with contrast like last night's was, that is going to move people to your side, and it's going to move people away from you. That's not a zero-sum game," said Robert Gibbs, Obama's communications chief.
Instead of running a "NoBama" campaign, Avlon says, McCain and Palin need to remind independents why they liked McCain so much during his 2000 presidential run. This time around, they need to sell the story of a team of mavericks, unafraid of charging into Washington as independent reformers, he said.
During his last White House run, McCain was known as a maverick who challenged the Republican-led Congress on overspending, corruption and campaign finance reform.
CNN contributor Paul Begala said that Palin is the "new hero of the Republican right" but that her attack-dog style wasn't what the independents and swing voters want to hear.
"They're very impressed with Barack Obama's appeal for healing and unity. And what they really want to vote on is health care, jobs, the economy; basic middle-class kitchen-table issues," he said.
But Stephen Hayes, a senior writer with The Weekly Standard, said she might have what it takes to woo voters to her side.
"You look at the kinds of arguments she was making last night. A lot of the arguments went back to the narrative that Republicans are trying to battle about Barack Obama being elitist, about him being too -- caring too much about himself, not enough about his country.
"It could be a pretty effective line of attack, especially if she can deliver it with a smile," he said.
But looking back to the last election, it's not a method that worked well for John Kerry. His attempts to motivate people on the basis of being anti-Bush backfired, and Avlon says the same thing will happen to McCain and Palin if they fuel their campaign with negativity.
Her impact on the independents and undecideds will depend on what storyline those voters believe, Avlon said.
"Will they see this as just a political selection on the part of McCain?" he asked. "Or will they see this appointment as I think the McCain camp would like to see it, which is a reform governor who is a fiscal conservative who rooted out corruption in her own party?"
E-mail to a friend

CNN's Rebecca Sinderbrand contributed to this report.
All About Sarah Palin • John McCain • Republican Party