By Jim Kavanagh
CNN

(CNN) -- Authorities in Minnesota's Twin Cities have created "a climate of intense police intimidation," protesters at the Republican National Convention contend, but officials say they're merely preserving the peace.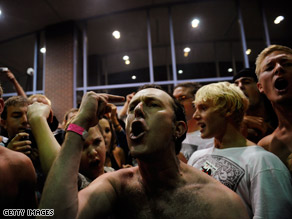 A crowd of mostly young people yells and chants late Wednesday after a concert in Minneapolis.
As of 9 a.m. CT Thursday, 422 people had been arrested since the convention began, according to law enforcement's Joint Information Center. Only 40 were still in custody earlier in the day.
St. Paul police had arrested 145 individuals on felony charges, 107 on misdemeanors, and 53 on gross misdemeanors, said Deputy Tracy Martin of the Hennepin County Sheriff's Department. She did not know the charges against 15 others.
More than 100 were detained Wednesday night after a Rage Against the Machine concert, Minneapolis Police Chief Tim Dolan said Thursday. None were charged with felonies.

Watch police and protesters mix it up »
Most were given citations and released, but about 15 remained in jail after refusing to identify themselves, he said.
"The bottom line with those individuals is they wanted to be arrested," Dolan said.
Another demonstration is due to begin at 5 p.m. before Arizona Sen. John McCain gives his nomination acceptance speech at Xcel Energy Center in St. Paul.
The RNC Welcoming Committee, a self-described anarchist/anti-authoritarian organizing body that has been behind many of the protests, said more than 300 demonstrators were being held as of Wednesday at the Ramsey and Hennepin county jails.
Numerous federal agencies are helping with convention security, but the anarchist group is focusing its outrage at Ramsey County Sheriff Bob Fletcher.

Learn how agencies are handling security »
"We demand the immediate end to the brutality of Sheriff Bob Fletcher -- who has personally harassed our organizers both in jail and out," the group said.
Fletcher spokeswoman Holli Drinkwine said the hard-core protesters deserved special attention from the police. Eight people arrested during raids last weekend face felony charges including second-degree conspiracy to commit riot in furtherance of terrorism, she said.
Convictions could result in more than 10 years in prison, she said.
Don't Miss
"This group had been planning for over a year the destruction that they were going to place on the city during the RNC," Drinkwine said.
Among the acts of terror the group allegedly planned, according to court documents, were kidnapping delegates, sabotaging a local airport, damaging bridges and taking over federal buildings.
"Their ultimate goal was to crash the convention," she said.
The American Civil Liberties Union said it was providing limited representation to many of those arrested during street demonstrations and raids on meeting places.
"Free speech has to be safeguarded during the Republican National Convention, as the workings of our democracy in the streets are as important as those in convention halls," ACLU Executive Director Anthony D. Romero said in a written statement.

Watch a woman's shock at being arrested »
iReporter Bob Stewart, a student in Minneapolis, said he saw a group of about 40 protesters in St. Paul vandalize a garbage bin and a bus as they marched toward the Xcel Energy Center earlier this week.
"The cops were pretty cautious. They were holding back," Stewart said. "It wasn't until we got downtown in the streets where they started to more aggressively approach the protesters."
Things started to get out of hand at that point, and police fired bean bags into the crowd, which took off in two directions, he said.
St. Paul Police Chief John Harrington said officers with all the agencies working the convention are trained to give protesters an opportunity to leave the area and issue verbal warnings before using chemical agents or projectiles.
Officers who are attacked are authorized to use pepper spray or Mace without issuing a warning, Harrington said.
An iReporter captured video of a police officer being tackled by a protester while trying to make an arrest; while still on his knees, the officer randomly sprays the surrounding crowd with a chemical agent, then walks away without his detainee.

Watch the officer hit the deck »
"There were 10,000 protesters here on Monday -- peaceful protesters -- and there were right around 300 arrests for people who were not peaceful protesters," Drinkwine, the Ramsey County sheriff's spokeswoman, said. "These were people who were doing damages to the city that are criminal.
"There were moms and dads with little kids walking down the street, and then there were people that were setting fire to Dumpsters and throwing feces on state troopers' vehicles and things like that.
"The police showed great restraint in what they were doing," she continued. "They were dealing with 300 criminals on the street while trying to protect the 10,000 peaceful protesters that were in St. Paul that day."
Harrington said having the convention in St. Paul has been worthwhile despite the trouble in the streets.
"Yes, we were tested. But I think that's part of the experience of developing and growing," he said. "... On balance, this has been a great event."
E-mail to a friend

All About Republican National Convention • St. Paul (Minnesota) • Civil Disobedience