By Paul Steinhauser
CNN Deputy Political Director
ST. PAUL, Minnesota (CNN) -- A new poll suggests that Barack Obama is widening his lead over John McCain in two battleground states but indicates the race is dead even in Ohio, the state that decided the last presidential election.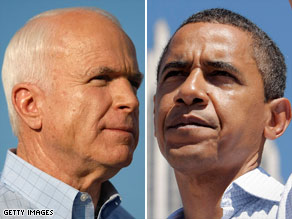 John McCain gets the support of white voters in Ohio, while in Iowa and Minnesota they lean toward Barack Obama.
In a CNN/Time/Opinion Research Corp. survey out Wednesday afternoon, 55 percent of Iowa registered voters who were questioned said that Obama, D-Illinois, is their choice for president, with 40 percent backing McCain, R-Arizona. That's more than double the lead Obama had in a University of Iowa poll taken early last month.
"Obama is winning in all regions of the state, even in the western counties, where George W. Bush beat John Kerry by 17 points," CNN Polling Director Keating Holland said. "Obama is winning rural voters in Iowa, not something you see in many other states."
Iowa's caucuses kicked off the presidential primary season and launched Obama toward the Democratic presidential nomination.
"Iowa was Barack Obama's breakthrough state. He won the Democratic caucuses with a powerful organization. John McCain barely competed in the Iowa Republican caucuses. He came in fourth," said Bill Schneider, a CNN senior political analyst.
"Obama retains a strong organization in Iowa, where McCain is just beginning to get started," Schneider said.
Don't Miss
It appears to be a similar story in Minnesota, where the Republicans are holding their national convention this week.
The poll indicates that Obama has a 12-point lead over McCain, 53 percent to 41 percent.
That's up slightly from a 10-point lead Obama held in a Humphrey Institute survey taken last month.
"It's important to note that today's polls don't reflect any boost McCain might get from the GOP convention, because nearly all the interviews were done before the festivities started in St. Paul," Holland said. "This could be Obama's high-water mark in those states."
It looks like a very different story in Ohio, which has 20 electoral votes up for grabs. iReport.com: Share your images from the campaign trail
President Bush's narrow victory in Ohio four years ago clinched his re-election. It looks like it could be just as tight this time around in Ohio.
The poll suggests that Obama has a 2-point lead over McCain, 47 percent to 45 percent, which is a virtual tie when taking into account the survey's 3.5-percentage-point sampling error.
"In Iowa and Minnesota, white voters are backing Obama. In Ohio, white voters are supporting McCain. What about those blue-collar white voters that were so important for Clinton in Ohio? They're pretty solidly for McCain," Schneider said.
The CNN/Time Magazine/Opinion Research Corp. poll was taken August 31 through September 2, with 828 registered voters in Iowa, 742 registered voters in Minnesota and 685 registered voters in Ohio questioned by telephone.
E-mail to a friend

All About John McCain • Barack Obama