(CNN) -- When she played basketball in high school, Sarah Palin, the soon-to-be Republican vice presidential nominee, earned the nickname "Sarah barracuda" for her fierce competitiveness.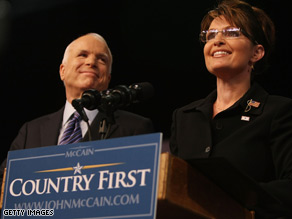 John McCain's choice of Sarah Palin as his running mate has generated immense interest and reaction.
In the 21 months she has served as governor of Alaska, no one is suggesting she's lost that fighting edge.
"I think people are going to be pleasantly surprised," said former Sen. Fred Thompson, looking forward to Palin's speech Wednesday night to the Republican National Convention.
"This is an articulate woman who knows what she's talking about."
Palin is Alaska's first female governor, and Wednesday night is to become the Republicans' first woman vice presidential nominee.

Watch as Palin prepares for convention speech »
For Thompson, Palin is "a mirror image of John McCain," the presumptive Republican presidential nominee.
"He's brought in someone who believes like he does," said Thompson, describing Palin's political record as "conservative-reform."
Widely seen as a political outsider who stayed at arms-length distance from her party establishment, Palin defeated two political insiders in 2006 to become the youngest governor in the state's history.
As governor, she won praise for backing tough ethical standards for politicians. During the first legislative session after her election, her administration passed a state ethics law overhaul.
Sarah Palin
Born: February 11, 1964, Sandpoint, Idaho
Education: B.S., University of Idaho, 1987
Elected offices: Wasilla, Alaska, City Council member, 1992-96


Wasilla mayor, 1996-2002


Elected governor of Alaska, 2006
Professional career: Television sports reporter, 1987-89; co-owner, commercial fishing operation, 1988-2007; owner, snow machine, watercraft and all-terrain vehicle business, 1994-97; chairwoman, Alaska Oil and Gas Conservation Commission, 2003-04.
Married: To Todd Palin; five children. The oldest, Track, serves in the U.S. Army; the youngest, Trig, has Down syndrome.

Sources: Almanac of American Politics, CNN

But her term has not lacked controversy. A legislative investigation is looking into allegations that Palin fired Alaska's public safety commissioner because he refused to fire the governor's former brother-in-law, a state trooper. She denies any wrongdoing.
McCain announced Friday that he had chosen Palin, who has been a beauty queen, high school basketball star and TV sportscaster.
Some of her opponents revived the "Sarah barracuda" nickname after she became mayor of her hometown, Wasilla, in 1996, kicking out a three-term incumbent.
In 2003 and 2004, she chaired the state Oil and Gas Conservation Commission, which regulates Alaska's oil and gas resources.
More recently, the 44-year-old became known in Alaska as a popular maverick, staunchly conservative on key issues but vocal about problems she saw -- including those in her own party.
Most of Palin's government experience is local: two terms on the city council and two terms as mayor of Wasilla -- a town near Anchorage with a population of 7,000.
As mayor, she earned a reputation as a tax-cutting conservative who limited spending, cleaned up government and challenged the establishment.
"She didn't settle for the status quo. She took on the establishment whether in her own party or out of her party," said Curt Menard, mayor of Matanuska-Susitna.
In her first statewide position, as chairman of the Oil and Gas Conservation Commission, Palin even went after the head of her own state party in 2003 for alleged ethics violations.
As governor she signed an ethics bill, and opened up the process for oil and gas bidding.
Her record as mayor gives ammunition to supporters and detractors alike. iReport.com: Is Palin attention a double standard?
She did cut property taxes in Wasilla -- granted, it's not exactly the Pentagon budget -- and reduced spending on the town museum while opposing a bigger library. She also was mayor when the local sales tax was increased to build a popular sports complex.
Don't Miss
While McCain has fought the use of congressional earmarks to fund local projects, Palin effectively used the system to gain $26.9 million in funding as mayor of Wasilla from 2002 to 2006, the independent watchdog group Taxpayers for Common Sense reported this week.
The projects ranged from $15 million for a commuter rail project to $500,000 for a transitional living program for homeless youth, the group said.

Watch Rudy Giuliani speak of Palin »
And then there's the infamous "bridge to nowhere" -- a pet peeve of McCain because of the enormous cost of building a bridge to a remote Alaskan community.
"I told Congress thanks but no thanks on the bridge to nowhere," Palin has said. But while running for governor she supported the bridge, saying it was essential for local prosperity. Once she became governor, she spiked it, citing rising costs and the needs of other projects.
A longtime opponent of Palin accuses her of a flip-flop.
"It was the bridge to somewhere and then when she got elected and the political winds had changed, it had become the bridge to nowhere," said Andrew Halcrow, Palin's gubernatorial opponent.
Some similarities between Palin and McCain were clear Friday -- both have been termed mavericks and both have taken on the GOP establishment at times.
McCain has a son who has served in Iraq; Palin has one heading there soon. So does her Democratic vice presidential opponent, Sen. Joe Biden.
On Fox News Sunday, McCain said Palin knows what it means to lead troops.
"She has been commander-in-chief of the Alaska Guard," McCain said.
The duties of a guard commander are numerous, but on a much smaller scale than commanding U.S. armed forces. The Alaska National Guard has about 4,000 troops. The president of the United States commands a force of 1.4 million.
Governors decide when and how to deploy the guard to help in natural disasters -- as they are now in the aftermath of Hurricane Gustav. They also can use the guard to control civil unrest. After the attacks of September 11, 2001, governors deployed the guard to airports and subways, at the request of Washington.
Governors play no role in deciding whether their guard forces go to war.
"A governor merely acknowledges that the president is federalizing the troops, the national guardsmen of that state," said retired Brig. Gen. Steven Koper of the National Guard Association.
An outspoken anti-abortion Republican, Palin has spoken publicly about her fifth child, who was diagnosed in utero with Down syndrome. Palin said she shunned the possibility of abortion, electing instead to have the child.
Palin is married to a commercial fisherman. Todd Palin worked for BP, formerly British Petroleum, at a Prudhoe Bay processing facility, but resigned when his wife became governor.
The two eloped in 1988, to save money on a big wedding, a year after she graduated from the University of Idaho, where she studied journalism and political science, according to the Almanac of American Politics.
Sarah Palin is an avid hunter and a lifetime member of the National Rifle Association. Born in Idaho, her parents moved to Alaska when she was 3 months old.
"She's a very capable person and very bright and tough without being abrasive, and I don't know whether she can do it or not. Time will tell," said Republican Alaska state Sen. Fred Dyson.
E-mail to a friend

All About Sarah Palin • Alaska • John McCain