(CNN) -- Republican vice presidential pick Sarah Palin wants a quick ruling from the state Personnel Board she has asked to investigate her firing of the state's public safety commissioner, her lawyer said Wednesday.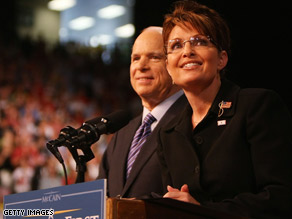 Sen. John McCain's running mate, Alaska Gov. Sarah Palin, is accused of pressuring a state official.
Palin, Alaska's governor, is scheduled to accept the Republican vice presidential nomination Wednesday night at the GOP convention in Minneapolis-St. Paul, Minnesota.
But her nomination has led to heightened scrutiny of her July firing of Public Safety Commissioner Walt Monegan, who said Palin aides pressured him to fire the governor's ex-brother-in-law from the state police.
The matter already is under investigation by the state Legislature, which was scheduled to report its findings on October 31 -- days before the November 4 election. But Palin's attorney, Thomas Van Flein, said the Personnel Board could resolve the matter faster "if they want to jump on it."
"I think I'd rather have them act quickly and get the real facts out there in the open," he said.
Van Flein filed papers Monday night with the state attorney general's office to request the investigation be taken out of the hands of the Legislature -- effectively amounting to the governor filing an ethics complaint against herself. Van Flein said the matter belongs before the Personnel Board, all three members of which were first appointed by Palin's predecessor.
Don't Miss
"We're not making this up," he said. "This is state law that the Legislature enacted that they're not following."
In the complaint, he wrote that an "unbiased review" would show Palin did nothing wrong. In a statement issued along with the complaint, Palin said she requested the new investigation "to put these matters to rest."
"The people of Alaska -- and of the nation -- deserve to have a decision from the proper tribunal putting their minds at ease that suggestions of misconduct that have circulated on the Internet and in some media outlets are not true," Palin said in her statement.
There was no immediate response from state Sen. Hollis French, who is managing the investigation launched in July by the bipartisan Legislative Council. Monday, he told Van Flein that the Personnel Board would not have jurisdiction over the matter unless a complaint was filed with the attorney general and refused to share copies of witness statements with the governor's attorney.
"I think you would agree that it would be highly unusual for an investigator to share information with one of the targets of the investigation," wrote French, a Democrat. "I am unaware of any precedent for such an arrangement."
Van Flein said Palin wants the investigation managed "professionally," and the case belongs with the Personnel Board.
The Personnel Board's three members were first appointed by Gov. Frank Murkowski, whom Palin unseated in a Republican primary in 2006. Palin reappointed one member, Debra English, in 2008.
E-mail to a friend

All About John McCain • Republican Party • Sarah Palin