ST. PAUL, Minnesota (CNN) -- Republicans launched a full-throated counterpunch at the media's scrutiny of Alaska Gov. Sarah Palin on Wednesday and accused the media of wanting to "destroy" John McCain's vice presidential pick.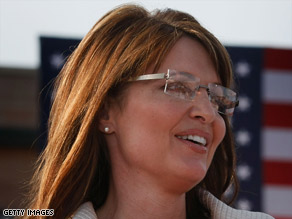 Gov. Sarah Palin campaigns in Missouri the weekend before the National Republican Convention.
The accusation comes as Palin is set to take center stage at the Republican National Convention Wednesday night in the Xcel Energy Center in downtown St. Paul, Minnesota. She will address the delegates in prime time with what many analysts call the most important speech of her political career so far.
The McCain campaign has been engaged in an increasingly fierce offensive against media coverage of McCain's choice of running mate. The media is examining whether the first-term governor and former small-town mayor's experience has prepared her for the vice presidency and whether the McCain camp spent enough time vetting her background.
In a memo released Wednesday, McCain's campaign called the scrutiny of Palin a "faux media scandal designed to destroy the first female Republican" vice presidential nominee.
"Gov. Sarah Palin is an exceptional governor with a record of accomplishment that exceeds, by far, the governing accomplishments of Sen. [Barack] Obama," Steve Schmidt, a senior McCain adviser, wrote in a memo, referring to the Democratic presidential candidate. "Her selection came after a six-month-long, rigorous vetting process where her extraordinary credentials and exceptionalism became clear.

Watch Palin step into the spotlight »
"This vetting controversy is a faux media scandal designed to destroy the first female Republican nominee for vice president of the United States who has never been a part of the old boys' network that has come to dominate the news establishment in this country," the memo said.

Watch Rudy Giuliani say Palin is ready for prime time »
During a contentious news conference near the convention site, a group of Republican women said the media's questions about Palin were rooted in sexism -- and told the media to stop "messing with us." iReport.com: Is Palin being held to an unfair standard?
McCain Victory Chairwoman Carly Fiorina said she found discussion over whether Palin is qualified to be vice president "quite stunning."

Watch Fiorina come to Palin's defense »
"All of us up here have been subjected to the stereotype of show horse, not work horse. ... They are trying to treat her as a show horse, to say 'nice little girl, nice show horse, but not qualified,' " she said, adding that she was shocked that some in the media would choose to "belittle," "demean" and "demonize" Palin.

Watch Giuliani defend the Palin pick »
Several speakers criticized the media for reporting on Palin's family, though they pointed to the governor's experience as a working mother as a vital part of her experience.
"You know, who better than her to understand the challenges that we have as career women trying to balance work and family," former U.S. Treasurer Rosario Marin said.
"Yet what we have is a media that has said things about her that they would never dare to say about a man," Marin said. "I am outraged. I am insulted. I am offended. And I know I represent millions of working women, millions of working mothers" who feel the same.
Pennsylvania Republican Party leader Renee Amore said that as an African-American woman, "I understand racism and I understand sexism. ... These smears are meant to distract the American people from the fact that Gov. Palin has more executive experience than Barack Obama."
When asked to name a specific time when she considered the mainstream media's reporting to be sexist, Amore could not name one, pointing instead to the general tone of the coverage.
Over the past several days, the McCain campaign has been questioned about the Palins' business dealings and political affiliations, and the governor's reformer record.
Over the past several days, the McCain campaign has been questioned about the Palins' business dealings and political affiliations, and what the governor calls her reformer record. The Palins and the campaign have issued statements on the pregnancy of 17-year-old daughter Bristol and the two-decade-old DUI arrest of the governor's husband, Todd.
Palin's office is also being investigated to see whether Palin or any of her staff pressured an Alaska public safety commissioner to fire Alaska state trooper Mike Wooten, who had been in a messy divorce and child custody battle with Palin's sister.

Watch Thompson endorse Palin »
The McCain campaign, which has been complaining about news coverage of the presidential race all summer, has spent the past few days pushing back on blogosphere rumors, including the release of a blizzard of memos and documents, many of which had not been reported in mainstream media outlets.
McCain's choice of running mate surprised many in the political world. She was rarely mentioned as being on McCain's short list of running mates before he announced his pick in Ohio on Friday. Many expected a more conventional pick, such as Minnesota Gov. Tim Pawlenty or former Massachusetts Gov. Mitt Romney. Both were finalists in the selection process, according to campaign sources.
The Washington Post reported that McCain's chief vetter, A.C. Culvahouse, had his first extensive interview with Palin on August 27, one day before McCain made his decision to tap her as his running mate.
As reporters continue to press for details on the thoroughness of McCain's vice presidential vetting process, Schmidt, a former senior adviser for President Bush's 2004 re-election team, said the Arizona senator "picked his governing partner after a long and thorough search."
"The McCain campaign will have no further comment about our long and thorough process. This nonsense is over. The American people get to do the vetting now on Election Day," November 4.
E-mail to a friend

CNN's Rebecca Sinderbrand contributed to this report.
All About Sarah Palin • Barack Obama • John McCain