From Dana Bash
CNN Correspondent
ST. PAUL, Minnesota (CNN) -- John McCain said Tuesday his vice presidential vetting process was thorough, as his campaign tried to calm concern that more surprises about Alaska Gov. Sarah Palin were coming.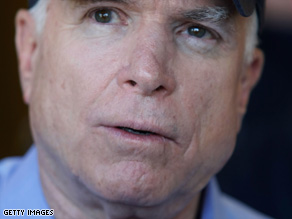 Sen. John McCain says his team's vetting of Sarah Palin was "completely through."
"My vetting process was completely thorough, and I'm thankful for the results," the presumptive Republican presidential nominee said during a stop at a fire station in Philadelphia, Pennsylvania.
The McCain campaign said it was aware in advance of two items it revealed on Monday: Palin's 17-year-old daughter, Bristol, is about five months pregnant and Palin's husband, Todd, had a DUI conviction 22 years ago.
A source intimately involved in the vetting process of McCain's choice for vice president called CNN to give an account of Palin's background check.
This official said a 25-person team, led by Washington attorney A.B. Culvahouse, started by compiling reports on 20 top vice presidential contenders, using only public documents like disclosure forms, public records, newspaper articles and interview transcripts.
That information was eventually presented to McCain, and to top campaign advisers Mark Salter, Steve Schmidt, Charlie Black and Rick Davis -- the only four aides involved in the highly secretive process.
Once McCain and those aides narrowed the choices to a short list, Palin and other contenders were contacted and asked for documents, including a credit check, tax returns and additional financial disclosure forms.

Watch Cafferty ask if Palin was sufficiently vetted »
Don't Miss
The official told CNN that all of those on the short list -- including Palin -- were asked to answer 70 "intrusive" questions, including "Have you ever paid for sex?" and "Have you ever been fairly or unfairly accused of sexual harassment?"
The questions were also described as some basic queries now asked of presidential nominees, like whether they ever hired illegal workers or neglected to pay taxes for nannies.
In one of her answers, Palin told McCain aides about her husband's DUI arrest 22 years ago.
Then Culvahouse, along with a few associates, interviewed Palin for three hours. During that interview, she revealed her teenage daughter's pregnancy -- and was warned it would become public if she were picked.

Watch analysts debate the effect of Bristol's pregnancy »
"She said she'd have those conversations with her daughter," the source said.
From the start of the vetting process, one red flag was a state investigation into whether Palin improperly dismissed Alaska's Public Safety Commissioner for not firing her ex-brother-in-law.
CNN was told that McCain investigators spent considerable time looking into the so-called "Troopergate" affair -- interviewing Palin's lawyer and quietly talking to others involved -- and decided the facts were on her side.

Watch how 'Troopergate' unfolded in Alaska »
The source said that aside from interviewing some of the figures involved in Troopergate, the vetters did not talk to character witnesses in Alaska.
The campaign also did not look at news articles about Palin from the newspaper in her hometown of Basilar, Alaska, because it is kept on microfilm and was hard to view without compromising their secrecy.
Sources told CNN that Culvahouse, one of Washington's widely respected lawyers, was called by McCain one last time before McCain officially asked Palin to join him on the Republican ticket.
McCain asked Culvahouse if, based on what he unearthed, he was confident the little-known Alaska governor's background would withstand scrutiny. Culvahouse gave McCain a confident go-ahead, the sources said.
But it is unclear whether Culvahouse gave McCain any political advice on whether Palin was a qualified or wise choice, or left that to the small group of political advisers involved.

Watch a discussion of the 'Palin effect' »
The McCain camp would not reveal precisely when the vetting process took place, how long it took or who else was vetted. iReport.com: What do you think of Sarah Palin?
close to independent Connecticut Sen. Joe Lieberman, Minnesota Gov. Tim Pawlenty and former Massachusetts Gov. Mitt Romney told CNN they were put through at least the first stage of short list vetting.
McCain met Palin in person once, at a National Governors Association meeting in February 2008, and spoke with her by phone on another occasion two days before bringing her to Arizona to offer her a spot on the GOP ticket.
E-mail to a friend

All About John McCain • Sarah Palin • Alaska • Tim Pawlenty