By Wayne Drash
CNN

(CNN) -- The question has long been posed to conservative male candidates during presidential campaigns: What would you do if your teen daughter became pregnant? Most dodge the question, saying their family lives are off-limits.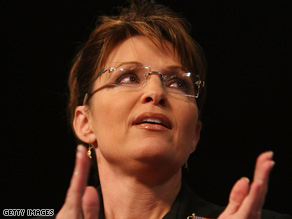 Sarah Palin has received the support of Feminists for Life of America since Monday's announcement.
But Sarah Palin's announcement Monday that her 17-year-old daughter is pregnant -- and she supports her daughter -- shows that the Alaska governor is steadfast in her support of family values, GOP loyalists and anti-abortion groups say.
"She walks her talk. She has principles that she espouses, and she does not set herself apart from those principles," said Serrin Foster, the president of Feminists for Life of America.
"You oftentimes see people who do not follow their own policies when it comes to themselves. And in this case, fortunately, she does."
Foster's organization describes itself as a group that promotes women's rights "with a pro-life stance." Palin, Sen. John McCain's running mate, is a member of Feminists for Life.

Watch McCain aide defend Palin »
Foster praised Palin for not only coming forward with the information but also for standing by her daughter during such a time.
"She's made some tough and courageous decisions and has not shied away from following her beliefs," she told CNN in a phone interview. "It's plausible a politician in a similar situation could have hidden the pregnancy."
Palin on Monday revealed that her daughter Bristol is pregnant and will marry the baby's father, adding that she and her husband are "proud of Bristol's decision to have her baby and even prouder to become grandparents." iReport.com: Were you a teen parent?
Family Research Council president Tony Perkins said, "Fortunately, Bristol is following her mother and father's example of choosing life in the midst of a difficult situation."
NARAL Pro-Choice America has blasted Palin as McCain's vice presidential pick, saying it "proves just how rigid and extreme his administration would be when it comes to a woman's right to choose."
"McCain's pick of anti-choice Sarah Palin is further evidence that his White House will be just another four years of Bush-style policies," NARAL president Nancy Keenan said in a statement Friday.
CNN sought comment from the group Tuesday, but those calls have not been returned.
Don't Miss
Palin has long opposed abortion. According to the Anchorage Daily News, Palin told the Alaska Right to Life Board in 2002 that she was as "pro-life as any candidate can be" and has "adamantly supported our cause since I first understood, as a child, the atrocity of abortion."
In 2006, during the race for governor of Alaska, she reiterated that belief in a questionnaire sent to all gubernatorial candidates.
"I am pro-life. With the exception of a doctor's determination that the mother's life would end if the pregnancy continued. I believe that no matter what mistakes we make as a society, we cannot condone ending an innocent's life," she said.
In that same questionnaire, she was asked if she supported funding for abstinence-until-marriage education instead of "explicit sex-education programs."
"The explicit sex-ed programs will not find my support," she said.
It is that response that lit up abortion rights blogs after Monday's announcement. Others took McCain to task for his vice presidential pick.
Democratic analyst Hilary Rosen said Palin's stance on abortion could turn off many independent voters, especially women.
"The issue is what kinds of decisions they think they have the right to make for other people's families," Rosen told CNN. "And that's where Sarah Palin and John McCain are going to fall short with independent women and others, because people respect people's own personal decisions, but they want the government to stay out of their lives.
"And Sarah Palin's position is pretty clear. The government should make the decisions. It should be illegal to make your own personal choices."
Foster with the anti-abortion group Feminists for Life defended Palin, saying teen pregnancy is an issue faced by many Americans from all walks of life.
"I know people who have been stay-at-home moms whose teenage daughters have gotten pregnant. I don't think the issue is to stay at home," she said. "The question is once they're pregnant, then what."
She added, "It's when things aren't going perfect and planned you see what people are really made of."
Foster also said she agrees with Democratic presidential hopeful Barack Obama, who said that the pregnancy should not have any bearing on the campaign for president and that families are "off-limits."
"This is not somebody seeking celebrity," Foster said of Palin's daughter. "She's just a teenager who now has a lot of responsibility she's facing."
E-mail to a friend

CNN's Rebecca Sinderbrand contributed to this report.
All About John McCain • Sarah Palin