By Terry Frieden
CNN Justice Producer
WASHINGTON (CNN) -- Former Attorney General Alberto Gonzales mishandled highly classified information on two of the nation's most sensitive terrorism programs, but he will not be prosecuted, the Justice Department inspector general said Tuesday.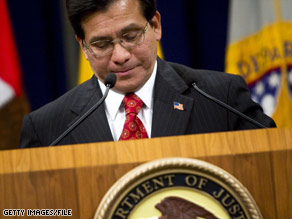 Alberto Gonzales speaks at a farewell ceremony in Washington last year, on his last day as attorney general.
In a 29-page report, Inspector General Glenn Fine said Gonzales had improperly handled information dealing with the National Security Agency's terrorist surveillance program and the terrorist detainee interrogation program.
The papers in question were so sensitive they were to be kept in the Justice Department Command Center.
The report says Gonzales violated the rules for handling top-secret information hours after he was briefed on the strict procedures for handling the documents.
"Despite this briefing, the attorney general took the notes home with him in his briefcase that evening and did not store them in a safe at his residence," the report said. Read the full report (PDF)
The documents were Gonzales' handwritten notes from a White House meeting with congressional leaders about the NSA surveillance program. Gonzales told investigators he did not remember taking the notes home and did not remember the combination to the safe.
When he returned the documents to the Justice Department, Gonzales placed them in a safe outside his office that could be accessed by others.
Don't Miss
Two of his staff members with lower-level clearances were told to search the safe "document by document" in response to a Freedom of Information Act request. One of the staff members told investigators that they "looked through every single thing in the safe."
Investigators concluded, however, there was no evidence that classified information had been shared or that there had been any unauthorized disclosure.
The National Security Division lawyers responsible for counterterrorism programs at the Justice Department requested the investigation after a White House tip, officials said.
"After conducting a thorough review of the matter and consulting with senior career officials inside and outside of the division, the NSD ultimately determined that prosecution should be declined," Justice Department spokesman Dean Boyd said.
The report stressed that Gonzales had only a vague recollection of his handling of the notes, either at home or at the office. Investigators also found that Gonzales stored 17 other "sensitive compartmented information" documents -- items above the top-secret level -- in the safe outside his office in violation of department regulations and procedures.
Attorneys for Gonzales said he always did what he thought was right and didn't know his actions violated required procedures.
"We submit that a fair assessment of the facts does not support a conclusion that [Gonzales] consciously knew that the safe was inadequate because it was not in a sensitive compartmented information facility and acted in contravention to that knowledge," said attorney George Terwilliger in a 12-page response to the inspector general.
"It is clear from the report that there is no evidence that the acknowledged shortcomings in [Gonzales'] handling of this material resulted in any unauthorized disclosure of classified information," Terwilliger said.
Gonzales, who took the Justice Department helm in 2005, stepped down in August 2007. He had been mired in controversy over numerous issues, including U.S. interrogation techniques and the nation's wiretapping policy.
Gonzales at one time was a judge on the Texas Supreme Court.
John Conyers Jr., chairman of the House Judiciary Committee, issued a statement saying "It is shocking to learn" that Gonzales "clearly violated basic Justice Department rules."
He said the Justice Department "ought to explain clearly why it declined to pursue charges against Mr. Gonzales and what actions it intends to take in response to the report."
E-mail to a friend

All About Alberto Gonzales • U.S. Department of Justice • National Security Agency