ST. PAUL, Minnesota (CNN) -- Police Sunday saw little disruption prior to a Republican National Convention greatly scaled back due to Hurricane Gustav.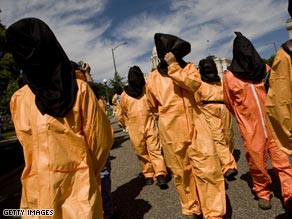 Protesters march before the Republican National Convention Sunday. The protest was peaceful, police say.
"Things are going as expected. Things are going well," Commander Doug Holtz of the St. Paul Police Department said.
The Republican convention, which begins Monday, has been designated a "national special security event," which means the Secret Service is responsible for planning and implementing a security scheme.
But the primary responsibility for street-level security falls to the local police agencies. St. Paul received $50 million in federal grant money to pay for additional security measures.

View the security plan »
The St. Paul Police Department estimated it would require $34 million to bring in and pay 3,500 extra officers. The rest of the money is for training and new equipment, the department said.
Holtz, who was at the Joint Information Center set up by the Secret Service to help coordinate the activities of the various law enforcement agencies involved in securing the event, said things were relatively quiet.
Nine individuals were arrested for trying to enter a restricted area and later charged with misdemeanor trespassing, Holtz said, and eight of the nine had already been released by Sunday evening.
St. Paul has been preparing for the Republicans' arrival for over a year, but there are still questions about whether the cities are prepared to handle the protesters who are expected to flood into the city.
St. Paul officials have planned for about 25,000 protesters, but the protest groups themselves are hoping for double that number.
Protest groups estimated similar numbers for the Democratic convention last week in Denver, Colorado, but the tens of thousands of protesters never materialized.
Holtz said one demonstration occurred Sunday without incident.
"That was peaceful, and we anticipate the other protests this week to be peaceful," he said.
On Saturday law enforcement officers say they uncovered evidence of an anarchist conspiracy to riot and disrupt the convention during a series of pre-convention raids.
In the raids, sheriff's deputies for Ramsey County -- which contains the convention host city of St. Paul --arrested a number of what they described as anarchists. They also found bricks and human waste they say was meant to be thrown at police, slingshots to launch projectiles, tacks meant to puncture tires and Molotov cocktails.
Officials say the group's plan was to sabotage buses and block bus routes.
"One group, the RNC Welcoming Committee, is our target," Ramsey County Sheriff Bob Fletcher said. "It's an anarchist group planning to commit criminal acts and harm our officers."
But lawyers and family members for those arrested say the sheriff is overstating his case.
Dave Bickings says the charges of conspiracy against his daughter, Monica, just doesn't fit.
"There is nothing here that would be a conspiracy to commit a riot. She has been very involved in organizing protests about the RNC convention," Bickings said. "She is one of the main organizers, but that is very different from conspiracy to commit riot."
Geneva Finn, a lawyer for the protesters, also said the they were not planning to do anything illegal or violent.
"Since there is no way of knowing what's true in advance of the convention, the authorities see a danger in underestimating the potential for disruption," he said.
On Sunday, Holtz of the St. Paul Police Department said he was unaware of any specific threat from anarchist.
E-mail to a friend

CNN's Scott J. Anderson, Joe Johns and Steve Turnham contributed to this report.
All About St. Paul (Minnesota) • Republican National Convention • U.S. Secret Service