By Jeffrey Toobin
CNN Contributor
Editor's note: Jeffrey Toobin is a CNN senior analyst and a staff writer at The New Yorker. A lawyer and former assistant U.S. attorney, Toobin is the author of several critically acclaimed bestsellers, including "The Nine: Inside the Secret World of the Supreme Court" and "Too Close to Call: The 36-Day Battle to Decide the 2000 Election."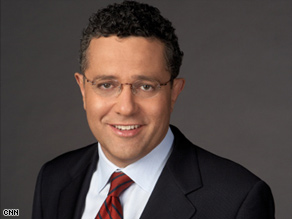 "This election is really ... about issues that will affect the lives of every American and ... the world," Toobin says.
(CNN) -- Conventions are about politics, not policies, so it's not surprising that we've lately been preoccupied with Hillary Clinton's body language and John McCain's real estate.
But it seems timely to offer a reminder that this election is really about something -- about issues that will affect the lives of every American and, most likely, everyone in the world.
Presidential candidates are cagey about specifics, so here's some informed speculation about how the world might look differently if McCain or Barack Obama wins in November:
Obama has three clear priorities for his presidency. He wants to end the war in Iraq, he wants to undertake a major expansion of guaranteed health care, and he wants to change energy policy to lower our dependence on foreign oil and start to address global warming. Can he do any or all of these?
The war does seem to be winding down, and even the Bush administration has started talking about timetables for removing our troops on a schedule only somewhat slower than Obama has planned.
The sheer complexity of health care and the tangle of interests make that issue especially difficult (ask Hillary Clinton). And Obama is promising to pay for health care with tax increases on the wealthy, which is never an easy sell in Congress.
Still, a near-certain Democratic majority may actually want something more ambitious than Obama's plan, more along the lines of Hillary Clinton's universal coverage idea (that fight will fun to watch). Energy might be more promising, because there are even some Republicans out there, like McCain, who have had good things to say about cap-and-trade plans to lower carbon emissions.
Don't Miss
McCain's immediate priorities are less apparent. Certainly, there's a big difference with Obama on taxes; McCain will keep the Bush tax cuts in place, even for high earners, and it's hard to imagine even a Democratic Congress fighting him. McCain will certainly be less eager to wind down the war in Iraq, though some troop reductions do seem inevitable.
On energy, McCain will push for offshore drilling and it's not clear what else. Health care is a big difference. McCain wants to subsidize some insurance premiums, but it's a much more modest idea than anything proposed by Obama or Clinton.
One big difference between the candidates, little discussed: the Supreme Court. With three of the four liberal justices likely to retire soon, McCain would have the chance to reshape the Court, which would then almost certainly overturn Roe v. Wade and allow states to ban abortion.
A more conservative court would also probably rule out affirmative action, including any race-conscious plans for school admissions or employment. Even if Obama wins, the best he can probably hope for on the Court is to ratify the tense status quo.
So everyone should enjoy the shows this week and next, but remember, there's more to it than balloon drops and stagecraft.
It matters who wins.

The opinions expressed in this commentary are solely those of the writer.
E-mail to a friend

All About John McCain • Barack Obama • Iraq War • Healthcare Issues • Energy Policy