By Regina Zilbermints
The Daily Iowan

Editor's Note: Regina Zilbermints is a writer for The Daily Iowan, the leading news source for the University of Iowa. This article was brought to CNN.com by UWIRE, the leading provider of student-generated content. UWIRE aims to identify and promote the brightest young content creators and deliver their work to a larger audience via professional media partners such as CNN.com. Visit UWIRE.com to learn more.
(UWIRE) -- The first time that the 11 University of Iowa students met Associate Professor David Redlawsk in their political-science seminar, they could see former Iowa Gov. Tom Vilsack over his shoulder while Minnesota Sen. Amy Klobuchar's voice boomed in the background.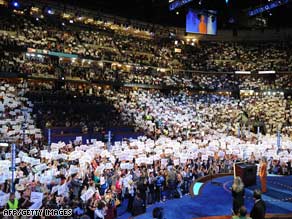 Hillary Clinton speaks to delegates at the Democratic National Convention on Tuesday night.
Redlawsk, a delegate to the Democratic Convention, will be in Denver until Wednesday. But he was also scheduled to begin teaching classes at the university on Monday.
Rather than canceling his classes or his trip, Redlawsk turned a scheduling conflict into an opportunity to give his students a firsthand look into a national political convention.
"I found myself in the middle of it, shooting video ... being immersed in the whole thing," said the professor of 10 years.
Redlawsk -- who will support Sen. Barack Obama after pledging as a John Edwards delegate -- lectured to his Problems in American Politics: The Modern Political Campaign class through a webcam, sharing his experiences from the convention and encouraging students to join the discussion.
He showed video clips that he shot -- a montage of protesters -- to convey the atmosphere in Denver. Through a number of interviews he conducted, students were able to see a variety of people who traveled to Denver to attend the convention or to be a part of the environment.
They heard from a delegate from Iowa City, a protester for a pro-military group, and a woman from New Jersey who had no specific role at the convention but simply felt she had to be there.
In addition to the in-class video sources, Redlawsk created an online blog for students in which he can share more of his experiences and upload pictures. Students are expected to participate by posting at least four responses by the end of the week.
The class was far from traditional, and students embraced the approach.
"Textbooks are important, but nothing can compare to seeing something firsthand," said UI junior Carly Johnson.
UI senior Bryce Carlson said that he expected to get an insider look from the class.
"I wanted to go to the convention, so seeing it and reading the blog is the next best thing."
Both the students and the professor had been concerned about using the live webcast in class. Few students had been in a class that integrated technology in the classroom to this extent.
However, after a few minor glitches in the first 30 minutes, things proceeded smoothly.
"It worked really well; I was really impressed," UI freshman Margaret Lozier said.
And though none of the students knew about their professor's trip when they registered for the class, they were impressed after the first day.
"He gave us, through clips and interviews, what's going on out there," Carlson said. "We'll get even more when he's here."
"It gave the whole thing a new perspective," Lozier added.
For Redlawsk, this real-world approach is nothing new in his classroom.
"We do lectures and textbooks - it's important," said Redlawsk, who founded the UI's Hawkeye Poll and has experience as an elected official. "But we can compare the real world events to what we read in textbooks, and see where the textbooks have it right and where they have it wrong. That sort of learning is extremely important."
E-mail to a friend

All About Democratic Party • College Life