DENVER, Colorado (CNN) -- Former Virginia Gov. Mark Warner told the Democratic National Convention that the most important race facing the country is the "race for the future ... and it won't be won with a president who is stuck in the past."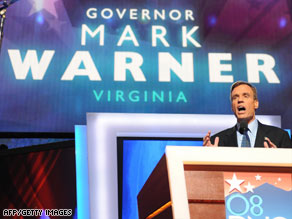 "This election ... is about the future vs. the past," former Virginia Gov. Mark Warner said Tuesday.
"We need a president who understands the world today, the future we seek and the change we need. We need Barack Obama as the next president of the United States."
Warner was delivering the keynote speech at the convention, the slot that Obama himself filled four years ago.
He accused President Bush of a failure of leadership at a critical moment in the nation's history.
"Folks always ask me, what's my biggest criticism of President Bush? I'm sure you all have your own. Here's mine: It's not just the policy differences. It's the fact that this president never tapped into our greatest resources: the character and resolve of the American people. He never really asked us to step up."
John McCain, he said, offered only "a plan that would explode the deficit and leave that to our kids. No real strategy to invest in our infrastructure. And he would continue spending $10 billion a month in Iraq. I don't know about you, but that's just not right. That's four more years that we just can't afford."

Watch Warner say McCain is "more of the same" »
But much of his speech was devoted to the kind of bipartisan rhetoric Obama has espoused on the campaign trail.
"I know we're at the Democratic Convention, but if an idea works, it really doesn't matter whether it's got a 'D' or an 'R' next to it. Because this election isn't about liberal vs. conservative. It's not about left vs. right. It's about the future vs. the past.
"That's why we must elect Barack Obama as our next president," Warner said. "Because the race for the future will be won when old partisanship gives way to new ideas. When we put solutions over stalemates and when hope replaces fear."
E-mail to a friend

All About Mark Warner • Barack Obama • John McCain