(CNN) -- Sen. Hillary Clinton may have endorsed Sen. Barack Obama for president in a speech at the Democratic National Convention Tuesday night, but Sen. John McCain's campaign said she stopped short of saying that he is ready to lead the country.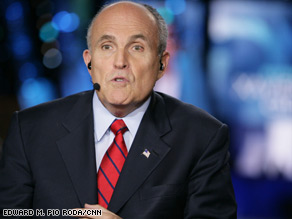 Rudolph Giuliani said Barack Obama should have picked Hillary Clinton for his ticket: "It is a no-brainer."
"Sen. Clinton ran her presidential campaign making clear that Barack Obama is not prepared to lead as commander in chief. Nowhere tonight did she alter that assessment. Nowhere tonight did she say that Barack Obama is ready to lead," McCain spokesman Tucker Bounds said in a statement.
"Millions of Hillary Clinton supporters and millions of Americans remain concerned about whether Barack Obama is ready to be president."
Clinton made clear in her speech that she did not want her supporters to vote for McCain even though the Arizona senator has made a concerted effort to reach out to Clinton backers.
"No way. No how. No McCain," Clinton said at the Democratic convention in Denver, Colorado. "Barack Obama is my candidate. And he must be our president."

Watch Clinton's entire speech »
She described McCain as her colleague and her friend but then laid into him.
"It makes sense that George Bush and John McCain will be together next week in the Twin Cities," she said, referring to next week's Republican National Convention. "Because these days, they're awfully hard to tell apart."
Republicans said the Twin Cities comment was effective because it played into the Democrats' efforts to cast McCain's policies as a continuation of the Bush administration.
"It's right along their theme of trying to put President Bush and John McCain together which, of course, John McCain has made such a point of being an independent," Sen. Kay Bailey Hutchison told CNN's Larry King.
"That is one of the great things about him -- he really calls his own shots and he agrees when he really does and he's willing to disagree if he doesn't," Hutchison said.
"The Democratic party seems to be two Democratic parties, the party of Hillary Rodham Clinton and the party of Barack Obama," U.S. Rep. Michele Bachmann of Minnesota told Larry King. "The main thing is the fact is Barack Obama hasn't put the party together yet and were looking at September 1."
But the McCain campaign said Clinton's speech validated many of their points about Obama's lack of experience.
"This was her time to make her case for Barack Obama," Bounds told Larry King. "It validated the argument that she made and that we're making ... Choose experience with John McCain or choose an inexperienced rookie to put in the White House."
The McCain campaign echoed sentiments expressed earlier Tuesday by two other Republicans who attacked Obama's fitness to run the country.
"He's a charming guy, he's a celebrity, but does he have the judgment and experience that comes from a life-long service in one sector or another?" former Massachusetts Gov. Mitt Romney asked.
Romney was one of two high-profile Republicans who made cameos Tuesday night at the convention. Former New York Mayor Rudolph Giuliani -- who, like Romney, pursued a failed campaign for the Republican presidential nomination -- also appeared on CNN's Situation Room to discuss the viability of an Obama-Biden ticket.
Giuliani said Obama made a "big mistake" when he passed over Clinton, the most anticipated speaker at Tuesday night's Democratic convention, for Sen. Joe Biden as his vice presidential running mate.
"The normal political thing to do, in terms of the best decision to make to win, would've been to pick Hillary Clinton," Giuliani, former mayor of New York, told CNN's Wolf Blitzer on the floor of the convention.
"It is a no-brainer. She got 18 million votes. Joe got 9,000 votes," Giuliani said, referring to their showings in polls during their failed bids for the Democratic presidential ticket.
"She commands about 45, 48 percent of this convention."

Watch Giuliani talk about Clinton »
Giuliani, who is to make the keynote speech at the Republican National Convention in Minnesota next week, also emphasized the Illinois' senator's lack of experience.
"That's what the choice for a president comes down to. It doesn't come down to a choice between the abstract and the abstract; it comes down to a choice between two people," Giuliani said. "You can't avoid that comparison. You've got one [candidate] with a lot of experience and one with virtually no experience."
Giuliani and Romney pointed out that both Clinton and Biden attacked Obama for his lack of experience when they were running against him this year.
Democrats believe that the Obama camp chose Biden, known for his vociferous critiques of the Bush administration, to help fill perceived gaps in Obama's résumé with his foreign policy experience.
Romney playfully referred to Biden's reputation for being a sharp debater.
"Joe Biden is an impenetrable thicket of words," Romney said. "I can't imagine anybody who is ready to debate Joe Biden."
Romney, whose name has been tossed around as a potential running mate for McCain, brushed aside questions about the Arizona senator's search for a vice president.
"I'm not sure when John McCain will make his vice president announcement or who it'll be," Romney said. "I have confidence in his instincts. He's proven time and time again that those instincts serve him well, and I think he'll make a wise choice."
E-mail to a friend

All About Barack Obama • Rudolph Giuliani • Mitt Romney • John McCain