(CNN) -- Actor and filmmaker Joe Pantoliano, known for his role as Ralph Cifaretto on the HBO series "The Sopranos," attended the Democratic National Convention on Monday to raise awareness about people living with mental illness.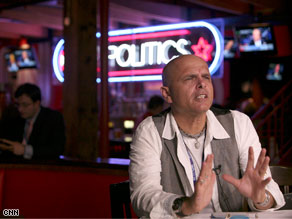 Joe Pantoliano has met with the Obama and McCain camps to promote mental health and recovery.
Pantoliano, founder and president of the eight-month-old advocacy organization No Kidding, Me Too, released a teaser of his new film about various forms of mental illness. At the CNN Grill, he answered five questions for CNN.com.
CNN.com: What are you doing out here in Denver?
Pantoliano: I've always been fascinated by the political process ever since I was a kid. ... I always love the festive partying, the camaraderie, the working for the candidate, whether it was somebody in the 3rd Ward where I lived in New Jersey in Hoboken or a senator or a congressman or even when a president would come. I remember when President Kennedy came down to Hoboken in '61 and I was only 10 years old. I was with the Kennedys tonight.
CNN.com: Are you a Barack Obama supporter?
Don't Miss
Pantoliano: I'm advocating my organization. I'm going to the [Republican National Convention} next week. I'm speaking on mental illness and the miracles of recovery; that's what the movie is about. I've met with the Obama chief of staff and the Obama people; I've met with McCain people. Mental illness is on the tip of their minds.
CNN.com: Who are you voting for?
Pantoliano: I don't know yet.

Watch how celebrity endorsements can backfire »
CNN.com: Where are the hot spots in Denver? Where are people hanging out?
Pantoliano: Here, the CNN Grill. It's all they're talking about. I really like Denver. The security is less kinetic [than] it was four years ago. That whole fear thing that this administration has played on our nerves; I think I have post-traumatic stress over that. What happened was I became addicted to the news. iReport.com: Are you in Denver? Share sights, sounds
CNN.com: Do you think that coming out to a convention helps you make up your mind better than sitting in your living room?
Pantoliano: I'm an independent. I can be inspired tonight by Michelle Obama's speech, and then something happens next week, so I'm going back and forth. I'm a flip-flopper. The difference that I see between the Republicans and the Democrats are that the Democrats really are a force of what the melting pot of our society is. Obama really represents that. Obama represents what America is today.
E-mail to a friend

CNN's Michael Senzon contributed to this report.
All About Denver • Mental Health