(CNN) -- Sen. Edward Kennedy and Michelle Obama kicked off the first night of the Democratic National Convention with speeches that focused on "new hope" and the American dream.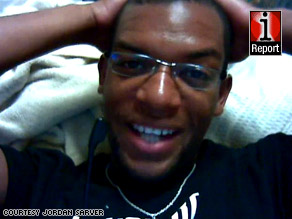 Jordan Sarver described Sen. Edward Kennedy as "a beacon, something to aspire to be as a Democrat."
iReporters across the country watched the convention and shared their reaction to Monday night's addresses.
Respondents had plenty of praise for Kennedy, who underwent surgery for a brain tumor in June, but the reactions to Obama were more varied.
"Kudos to Ted Kennedy," said Jordan Sarver of Athens, Georgia. "He looked healthy; he looked strong. He really energized the crowd."
Sarver added, "he really just was a beacon, something to aspire to as a Democrat," saying that the ailing senator seemed to inspire the crowd of cheering delegates. iReport.com: Watch the full commentary
Lisa Perez of San Antonio, Texas, said she wondered whether Kennedy would have been a more powerful closing speaker than Michelle Obama.
"It seems like a whole night of the DNC was a wasted opportunity to unite Democrats and whip up a celebratory atmosphere," she wrote on iReport.com.
Perez, a former supporter of Sen. Hillary Clinton's, said she now backs Obama.
Although she said Kennedy's speech "brought me to tears and had me cheering," she said she felt that Obama's address "was kind of a killjoy."
"While it was thoughtful, genuine and sensitive, it appeared apologetic to me in the end," she said.

Watch as other iReporters speak out »
Like Perez, Donald L. Stuckey II is a former Clinton supporter who has pledged his support for Sen. Barack Obama.
Don't Miss
The Detroit, Michigan, resident said he was struck by Michelle Obama's story of her father, who struggled with multiple sclerosis. Stuckey said the speech reminded him of his family's health issues.
"Her father worked every day to provide for his family, just like my mom who goes to work every day even when she is in pain," Stuckey wrote on iReport.com.
Monday night marked one of the first times Joel Najera, 21, had heard the potential first lady speak publicly.
"I was surprised that she was a very good speaker," he said. "She spoke very eloquently, made good points and a good case for her husband."
Najera, who lives in San Angelo, Texas, said his vote has been with Barack Obama "since Day One."
"It is speeches like the one Michelle Obama gave tonight that keep me convinced that the Democratic Party truly does care for every man, woman and child in this country and on this planet," he said.
Below, read additional responses from iReport.com contributors, some of which have been edited for length and clarity:
butterfly1: Sen. Ted Kennedy was the surprise highlight of the event. When Ted opened his mouth, it was with such strong conviction, people were amazed by his voice in the tone in which he spoke. His speech was direct and to the point, about Democratic justice for recovery of America's people. Ted Kennedy was the man of the hour.
docfox: It was a profound moment for me to be reminded by Ted Kennedy that when he passed the torch to the next generation -- that it was my generation.
Our time has come. And indeed, we are the change we have been waiting for.
Fantasy: I've been to a few conventions, and this so far is anything but a convention. I was hoping to hear a strong start on who you the Democrats are followed by a brief description of each policy and who (as in what role they play in the development of each policy) would be representing each policy.
So far all I have seen is the same old stale talk about nothing, leading me to wonder if [Obama] really does have viable plans or if [he] is just in it for the fame.
Proud2BMe: What Michelle proved tonight is that she is America. She has risen above her circumstances and become a powerful role model to anyone who wants to have a little more or do a little better. The faces of the crowds, the tears, the smiles in the audience tell what people thought about Michelle Obama.
mlawmccullou: Clearly, the American people witnessed a magnificent crafted and well-articulated speech rendered by Michelle Obama. If there were any indecisive voters present or watching it via television because they were uncertain about who Barack was and does he actually care about the middle class, my belief is that that notion is put to rest.
E-mail to a friend

All About Barack Obama