By Scott J. Anderson
CNN
(CNN) -- Sen. Joe Biden will make his first appearance before the Democratic National Convention as his party's vice presidential nominee Wednesday night, but the real drama of the evening may come from former President Clinton and what he says about Sen. Barack Obama.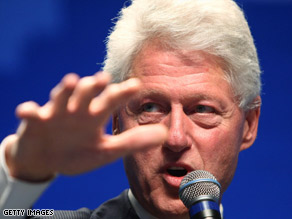 Close attention will be paid to what former President Clinton says about Sen. Barack Obama on Wednesday.
"I think things are actually progressing better than maybe some of us might have thought in terms of the relationship between the two of them," said Paul Begala, a Democratic strategist and CNN contributor.
"They haven't known each other very well or very long. And Sen. Obama ran against his wife, and there's still some bruised feelings, but I think the president and Sen. Obama are trying very hard to reach across that divide."
As the Democrats gather for their third day in Denver, the theme of the night will be national security. The Forum: What's your view on national security?
But a CNN/Opinion Research Corp. poll out Wednesday suggests that national security issues may be a weakness for the Democrats. Voters surveyed in the poll preferred Obama's Republican rival, Sen. John McCain, over the Illinois Democrat on two top national security issues: terrorism and the war in Iraq.
Those surveyed preferred McCain over Obama 60 percent to 36 percent on the issue of terrorism and 53 percent to 44 percent on the issue of the Iraq war.

View poll results on national security »
The poll's margin of error was plus or minus 3.5 percentage points.
Some of the Democrats' most experienced statesmen hope to shrink that Republican advantage to argue that Obama is the best candidate to strengthen America's national security.
But Bill Clinton may still steal the spotlight. Some of the sharpest exchanges during the hard-fought Democratic primary season occurred between Obama's campaign and Clinton, who was vigorously campaigning for his wife, Sen. Hillary Clinton, for the Democratic nomination.

Watch why some Democrats are nervous about Clinton's speech »
Candidates 'Revealed'
See for yourself who the presidential candidates really are in two special, back-to-back documentaries.
Sat & Sun, beginning 7 p.m. ET
On one occasion, the ex-president said that electing Obama would be to "roll the dice," and he called Obama's opposition to the Iraq war "a fairy tale."
Clinton was perplexed and unhappy that he was asked to speak on the night when the theme is national security, sources close to the former president said Monday. They said he would prefer to talk about the economy, the issue that helped him first capture the White House in 1992.
But Obama said Monday that he told Clinton, "you can say whatever you like."
"Bill Clinton knows a little bit about trying to yank an economy out of the doldrums and trying to help middle-class families, and it wouldn't make much sense for me to want to edit his remarks to prevent him from making a strong case about why we need fundamental economic change in this country," Obama said at a campaign stop in Moline, Illinois.
Obama and Hillary Clinton won roughly 18 million votes each during the primary season, and bitterness remains between the two camps. Since Obama captured the nomination, however, the former rivals have campaigned together, and in July, Bill Clinton said he was would be "eager" to campaign for Obama in the general election.
And Tuesday night in Denver, Hillary Clinton delivered a clear message to her delegates and supporters: "Barack Obama is my candidate. And he must be our president."
The decision to give Bill Clinton free rein may be part of the effort at reconciliation between the two camps.
"There was some tension there. It was a long battle, and that's what politics is about," said James Carville, a CNN political analyst who helped Clinton win the presidency in 1992. "It's a little bit like relationships: You fight, and you reconcile."
Don't Miss
However, Bill Clinton may not have helped the healing process when he told ABC News this month, "you could argue that no one is ready to be president," after being asked whether Obama was prepared for the Oval Office.
But Obama said both Clintons were supporting his campaign.
"Sen. Clinton has pledged her whole support to my campaign, as has President Clinton," Obama said. "I think you will see during the course of this week that the Democrat Party is energized and determined to take the White House back."
One man who is expected to focus on the evening's theme of national security -- and take the fight to the Republicans -- is the Democrat's presumptive vice presidential nominee.
Biden, chairman of the Senate Foreign Relations Committee, has developed into one of Washington's most respected voices on foreign policy more than three decades after being elected as a senator from Delaware.
Biden ran against Obama for the Democratic presidential nomination but dropped out after a poor showing in the Iowa caucuses in January.
In an emotional appearance before his home state delegation Tuesday, Biden said he was proud to be on the team led by Obama.
"He'll not only transform the nation; he's going to transform the world," Biden told the Delaware delegates. "And I'm glad to be on the trip with him."
After being introduced as Obama's running mate Saturday in Springfield, Illinois, Biden did not hesitate to take on the vice presidential candidate's traditional campaign role as chief critic of the opposition.
"We can't afford four more years of a foreign policy that has shredded our alliances and sacrifices our moral standing around the world," Biden said. "Ladies and gentlemen, that's the bad news. But there is good news, America. We don't have to have four more years of George W. Bush and John McCain." iReport.com: Are you in Denver? Share sights and sounds
E-mail to a friend

CNN's Jason Carroll contributed to this report.
All About Bill Clinton • Hillary Clinton • Barack Obama